February, 25, 2019
We are replicating inclusive businesses at the Sankalp Africa Summit in Kenya!
Multi Sector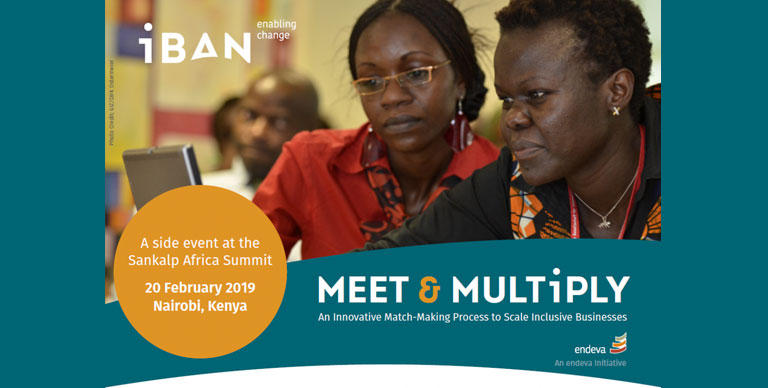 In February 2019, East African entrepreneurs will have the opportunity to replicate successful inclusive business models from other parts of Africa and Asia
Endeva and iBAN (the Inclusive Business Action Network) co-organise Meet & Multiply as a side event at the Sankalp Africa Summit in Nairobi, Kenya on February 21-22. This will be an opportunity for East African entrepreneurs and established companies to meet the founders and CEOs of successful inclusive businesses that are interested in scaling their model in East Africa. These "originators," as we call them, are keen to set up franchises, joint ventures and partnerships with "adopters": suitable partners in Kenya and other East African countries who have the ability to help replicate the model.
WHAT IS MEET & MULTIPLY?
Meet & Multiply is an innovative matchmaking process that helps inclusive businesses scale up and replicate their models. We identify successful businesses with impact and carefully select potential adopters of their model in a new geographic location. We bring the originators and adopters together for a half-day event with the right set of ecosystem partners that can help originators multiply their impact. Following the event we provide financial and technical follow-up support to ensure successful replication.
OUR APPROACH WORKS!
Our first Meet & Multiply event was held as a side event at the Base Forum in Mexico in July 2015. EKutir was one of the originators. This Indian company reaches around 70,000 marginalized farmers with human-digital services to link them to information, services, and markets. On average, farmers who benefit from these services improve their income by US $200 per month. We found 10 potential adopters for eKutir, as well as ecosystem partners like the International Finance Corporation (IFC) who could accelerate replication. Through Meet & Multiply, eKutir was able to replicate its model in the Dominican Republic and Haiti.
Click here for a review of the Meet and Multiply matchmaking process (PDF)
ARE YOU INTERESTED?
The relevant sectors for Meet & Multiply Kenya will be agriculture, health, energy and Information and Communication Technologies (ICT).
Let us know if you:
-would like to learn more about potentially participating as an adopter;
-are an ecosystem player that wants to support proven businesses models with impact in East Africa; or
-are an ecosystem player that could potentially share this opportunity with East African entrepreneurs.
You can now apply to request a ticket at meetandmultiply.org
The deadline for applications is February 1, 2019.
For more information contact Tendai Pasipanodya t.pasipanodya@endeva.org