November, 07, 2022
Smallholder farmers hold the key to feeding Africa's rising population
Agriculture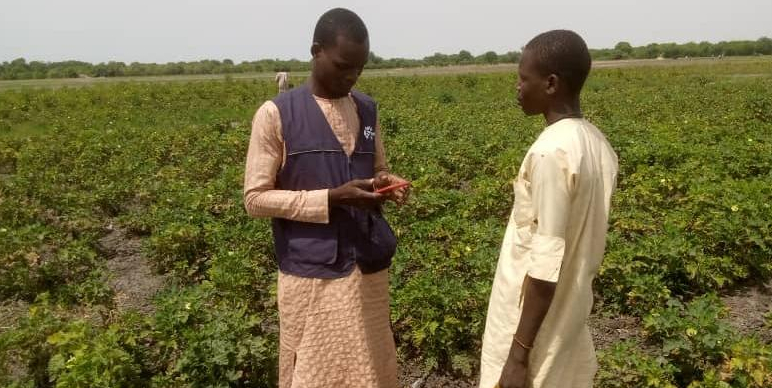 Smallholder farmers hold the key to feeding Africa's rising population. However, increasing risks from climate change-related crises threaten their ability to do so as these risks affect both agricultural productivity and food security. Though insurance can increase their resilience, few farmers have access to agricultural insurance. With overall insurance penetration at 2.78%(1)  in Africa, and especially low agricultural insurance uptake, there is need to broaden the toolkit for smallholders to increase their resilience.
To contribute to the efforts in increasing access to agricultural insurance for smallholders, GIIF in collaboration with Intellecap(link is external) launched the Africa AgTech & Inclusive Insurance Challenge for technology-led agribusinesses working at the intersection of agriculture, insurance, climate, and gender to build resilience for smallholder farmers. More than 200 entrepreneurs entered the Challenge from 23 countries. As a follow up to the Challenge and to build capacity of the top entrepreneurs in bringing insurance and insurtech solutions to market, GIIF launched the AgTech Accelerator and Knowledge Management Initiative. The Accelerator will take the top innovators through a rigorous four-month process at the end of which they will bring to market technology solutions that can fast-track the development of agricultural and index insurance for smallholder farmers. By documenting and sharing the learnings from this Accelerator, GIIF will contribute to developing the ecosystem and knowledge base of insurtech solutions for the agricultural insurance space in Africa. Combined, these aspects will catalyze the growth of Africa's emerging agri-insurtech industry.
What does the Accelerator entail? To begin with, the selected enterprises participate in an assessment to identify challenges in their overall business operations, followed by an evaluation of the feasibility of insurtech as a service and as an additional revenue stream for the businesses. Then the enterprises are mentored by industry experts through weekly sessions along this journey of business process re-engineering. In this blog, we profile two of the enterprises: Omishtu-Joy and Rural Farmers Hub from Ethiopia and Nigeria, respectively. Rural Farmers Hub was established in 2018 to provide crop and soil health e-extension services to smallholder farmers. The company analyses satellite imagery and historical data to measure crop health, pest infestation, weather patterns, soil composition and water stress levels. The company is currently reworking its business model to provide insurtech services to its network of farmers whose average farm sizes are 0.3 hectares.
According to Gabriel Eze, Co-founder at Rural Farmers Hub: "What started as participation in the GIIF Africa Agtech and Inclusive Insurance Challenge in March 2022 has transformed into a one-of-a-kind capacity building, business mentorship, and support initiative that has reinforced our ability to better understand the agricultural insurance industry. We have also been able to conduct research and development for an insurance product targeting farmers in rural areas." Based on this engagement with GIIF, Rural Farmers Hub has managed to mobilize US$500,000 in additional funding that will push them further towards bolstering their insurtech innovation and ultimately reaching their bold target of servicing every vulnerable farmer in Africa. Since participating in the Accelerator Initiative, Rural Farmers Hub has gained knowledge on how to streamline its business operations, refine its product for market-fit, and generate additional revenue streams for business sustainability.
"The plan is to go beyond the existing services and introduce a fintech product tied to climate insurance that targets smallholder farmers and agribusinesses that support these farmers, helping them realize their dream to close the gap of the missing middle and make it easier for disadvantaged farmers to access financial services," adds Eze.
"Our vision is do everything possible to improve farmer livelihoods and farmer resilience by providing them with key insights, and agricultural services essential for decision-making. To achieve this vision, we will be seeking follow-on funding, after the Accelerator, to help us pilot, deploy and iterate this product and eventually scale into new markets," concludes Eze.
Founded in 2019, Omishtu-Joy, provides soil health testing services to farmers in Ethiopia. It does this through a locally designed and manufactured soil-testing kit that can accurately measure soil parameters such as pH levels, levels of nitrogen, phosphorous, and potassium, soil temperature and soil moisture. Omishtu-Joy enhances access to soil testing services that were previously only offered by the National Soil Testing Center and were out of reach for smallholder farmers.
Since the Challenge, Omishtu-Joy has refined the hardware of the soil testing kit to increase portability and functionality. A humidity reader has been included to the parameters to increase accuracy. Prior to participating in the Accelerator Initiative, Omishtu-Joy lacked a well-defined business model, operating both a software-as-a-service (SaaS) model and product as a service model.
"Through the Accelerator, we have learnt the importance of focusing on the software-as-a-service (SaaS) model to maintain our advantage over competitors who may want to use their own devices. We have also learnt the importance of intellectual property rights for our technology and are committed to applying for a patent in the near future," Boaz Berhanu, Co-founder, Omishtu-Joy.
The firm will also focus on improving its marketing and distribution operations to increase brand awareness and sales. Omishtu-Joy has also raised US$10,000 in grant funding for product refinement.
On the Accelerator's role in supporting investment, Berhanu continues: "We were taken through the process of developing a compelling business case and becoming more attractive to investors. Indeed, we have had a detailed discussion with one investor, that is going to be a life-changing opportunity to help our startup expand to different regions."
Despite the promise of these initiatives, the insurtech ecosystem requires a well-defined regulatory framework across Africa to guide the development of agricultural insurtech innovations.  Where available, sandbox regulations mainly facilitate ideation and piloting. Separately, GIIF is supporting the review of sandbox regulations to ensure fit-for-purpose across key markets in Africa.  To scale insurtech innovations such as these, financial investment targeting research and development as well as deployment is required.
The Accelerator is contributing to reducing the insurtech funding gap by enhancing the investment-readiness of the select enterprises while providing access to vital technical capabilities for product development through mentorship by insurtech product development experts.