December, 23, 2022
ROLE OF CLIMATE SMART AGRICULTURE ENTERPRISES IN GENDER MAINSTREAMING
Agriculture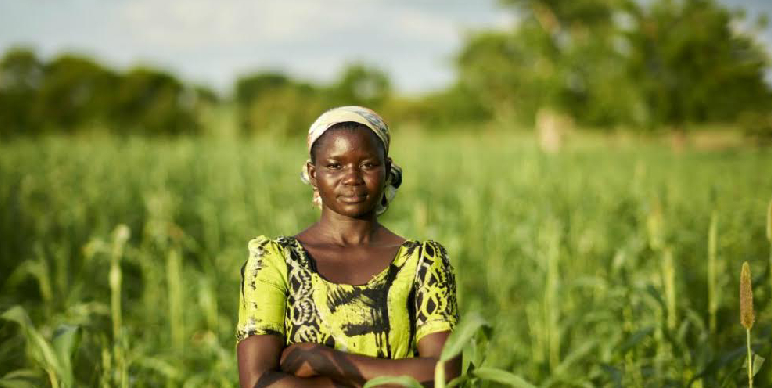 Climate change continues to be a significant concern globally. Similarly, effects of climate change are also being experienced in East Africa in the form of increasing temperatures, weather variability, shifting agroecosystem boundaries, invasive crops and pests, and more frequent extreme weather events. On the farms, climate change is reducing crop yields, the nutritional quality of major cereals, and livestock productivity. To combat the menace, climate-smart agriculture, an integrated approach to managing landscapes — cropland, livestock, forests and fisheries — has been championed in a bid to enhance food security. East Africa is the one of the most vulnerable regions to climate change as a result of its considerable development constraints. Resilient and coping mechanisms across East Africa remain limited, reflecting structural factors restricting region's abilities to respond to and recover from shocks. In particular, heavy reliance on rain-fed agriculture increases humanitarian, social, and macroeconomic vulnerabilities to rising temperatures and extreme weather shocks, which most heavily affect the poorest segments of the region's rapidly growing population.
The scaling of climate-smart enterprises with a gender lens would contribute to the transition of East Africa countries to a low-carbon economy through women's economic empowerment. Innovations and enterprises using climate-smart agriculture practices can play a critical role in improving the region's food security. For this reason, it is imperative to support them in their efforts to scale up. In addition, given women's critical role in the region's food systems ecosystem – as producers, farm laborers, processors, and traders – it also becomes essential for these enterprises to embed a gender lens within their business design and advance gender mainstreaming. This is especially important since women in agriculture are often disproportionately affected by climate change. It is estimated that more than 50% of the agricultural labor force in East Africa comprises of women. Gender imbalances exist in the agriculture value chain and are further exacerbated by climate change.
Women smallholder farmers are more vulnerable than men to climatic shocks and stressors as they tend to be more dependent on agriculture and natural resources and have less diversified livelihoods. Structural gender inequalities impede women's ability to respond to, adapt to or mitigate climate change impacts. Women tend to have fewer and lower-value assets as well as less access to land, capital, labor, agricultural inputs, and social and institutional networks. Coupled with social norms and gender roles that limit their agency, both at the household and community levels, women's access to and use of climate-smart technologies is constrained. Subsequently, they have less time to pursue other sources of income as they are stuck in undertaking drudgery-prone activities as unpaid workers on the farm and in their homes. As a result, they face challenges such as limited decision-making power, negligible ownership of and control over land and other productive resources, time poverty and mobility restrictions.
It is in the business interest of enterprises to adopt a gender lens in their operations. Gender-inclusive approaches to business hold the potential for not only positively impacting women engaged in the sector, but also for providing a significant potential for the business growth of climate-smart agricultural enterprises. Evidence suggests that businesses incorporating women in their operations have better profitability and higher returns, more innovation, better decision-making, improved customer responsiveness and retention, and are also able to attract gender lens capital.
Intellecap has launched an accelerator program, 'Business Acceleration through gender mainstreaming' which aims to support climate smart agricultural enterprises in Kenya, Rwanda, Tanzania and Uganda to scale-up and simultaneously mainstream gender in their operations. This program is part of the wider 'Reorienting the private sector to enable climate-smart agricultural solutions to address gender inequalities' program, being supported by the International Development Research Centre (IDRC). The accelerator program has so far selected two enterprises in Kenya and Tanzania operating at the nexus of sustainable agriculture and climate change. The accelerator program runs for a period of 12 months, for each of the enterprises, divided into 2 phases: the first six months are spent on providing customized technical assistance support and capacity strengthening through training and coaching on business and gender mainstreaming; and the second phase includes impact assessment and monitoring and evaluation to support the businesses in further institutionalizing gender mainstreaming and keep track of it as the businesses scale.
The first cohort
Agriculture is one of the most important sectors of economic activity in East Africa, accounting for more than 68% in Tanzania and more than 40% in Kenya. Good agricultural practices such as using quality, improved, and resilient seeds and planting material, soil testing, and health conservation, land preparation techniques, safe and efficient use of crop protection products, efficient water use and post-harvest loss management, are fundamental in mitigating and adapting to the impacts of climate change. Inadequate implementation of these measures leads to increasing inefficiencies in the use of inputs. This, in turn, leads to increased cost of production, reduced yields, and an overall reduction in incomes due to the reduced yields and increased cost of production.
Alaska Tanzania and Aquarech Ltd in Kenya, two enterprises supported by the program, are helping farming communities adapt to climate change.
Alaska Tanzania is working to support women farmers improve their productivity. Tanzania is the leading producer of rice in East Africa and the fourth largest in Africa. However, rice yields in the Tanzania have been
considerably low, averaging between 1.25 and 2.5 tonnes per hectare against the global average of 3 to 6 tonnes per hectare. Evidence shows that negative impacts associated with climate change, inadequate use of regenerative agricultural practices, low yielding rice varieties, pests and diseases, and gender dynamics all contribute to the yields. While more than 68% of women in Tanzania are employed in agriculture, they have limited access to and control over productive resources like land and capital. Approximately, 8% of women in Tanzania own land independently, and furthermore, only men traditionally inherit land. This implies that most women can only farm their spouse's land or rent land. Subsequently, women have limited access to financing, leading to inadequate access to modern farming tools and other GAP resources such as seeds and fertilizer.
Alaska Tanzania sources rice from a pool of 65 small-scale farmers, of whom 65% are women farmers. The rice is cleaned, sorted and packaged, and sold to customers through various distribution channels. Customers include; retail stores, hotels and restaurants, women-street vendors and institutions such as hospitals and schools. Alaska Tanzania trains farmers on good agricultural practices, climate change effects and coping mechanisms, including water conservation and effective use of inputs, thereby reducing the cost of inputs. So far, Alaska Tanzania has supported 8,000 paddy farmers through trainings on good agricultural practices, post-harvest losses and climate- smart measures. Additionally, it assists farmers in accessing high-quality inputs, and finance. On the customer side, Alaska Tanzania trains micro businesses, who form part of their customer base, on business management, to improve and scale their businesses. The business owners are empowered and equipped with knowledge on better business management, which enhances their income management and equips them to cope with climate change.
In addition to the above interventions, Alaska Tanzania, through its Mama Lishe program is championing gender inclusivity in agriculture by providing access to grants to women in the program. Through its Mama Lishe program, Alaska Tanzania empowers street food vendors by training them on effective ways of managing their businesses.
Aquarech in Kenya is striving to reduce the vulnerabilities of women fish traders and enhance economic empowerment for women fish farmers. The fishing industry in Kenya is already under pressure from overfishing, habitat destruction, and weak governance due to inadequate policies and increased food demand from a rapidly growing population. These local stressors, along with the direct and indirect impacts of climate change, are resulting in an estimated 40% of the potential growth of the aquaculture sector being lost. The sector is grappling with increasing sea temperatures and rising sea levels that affect fish breeding patterns and lower fish food supply, disrupting the regional fishing industry. Changes in the marine ecosystems have resulted in fish moving from the shore into deeper waters, which makes it riskier for small fishermen to accumulate enough catch to sustain their livelihoods. Although fishing is customarily considered a male activity, in Kenya, women play a substantial role in the fisheries sector, making up nearly half of the overall workforce in the fisheries value-chain.
Despite their participation in the value chain, persistent gender inequalities exist due to inadequate education and training, cultural and societal norms and lack of financing, which prevent women from fully participating in economic opportunities and decision-making in the sector. This is where Aquarech is playing its part in helping small-scale fish farmers to adapt to climate change while actively championing gender mainstreaming in the sector.
Aquarech sells high-quality floating fish feed to fish farmers, and sources, aggregates fish from small-scale farmers and sells to fish traders and eateries. It also trains farmers on good aquaculture practices, climate change effects and coping mechanisms, including using improved and more efficient feeds. On the customer side, by linking farmers with quality fish feed, it is improving efficiency in the fish feed and reducing the overall production costs. By aggregating and selling fish to traders and eateries, it creates a reliable market for the farmers hence managing their revenues and providing income stability. It also has fish distribution outlets that directly serve the low-income communities, hence increasing access to nutritious food i.e., fish. Aquarech has an online platform, Aquarech farmer app, which allows fish farmers to directly trade with buyers on the platform, enhancing transparency in pricing. It also allows farmers to buy fish feed by placing orders through the platform.
Furthermore, the platform offers a precise feeding regime that helps farmers adapt to climate change by monitoring and controlling water temperature. This feature eliminates underfeeding or overfeeding, thereby boosting fish production.
In addition to the above interventions for farmers, Aquarech is building sustainability for fish farmers by offering credit financing. Access to finance enables the fish farmers to increase their production whilst adapting to climate change and thus enables them to build sustainable businesses.
Challenges and opportunities in gender mainstreaming for the enterprises
While several enterprises offer climate-smart agriculture products and services in East Africa, multiple challenges limit their effective adoption and use; access to relevant and timely information, and inadequate capital are the most critical ones. The gender-impact potential of such products and services often remains unrealized due to the insufficient focus of the business on gender mainstreaming. Stakeholders such as investors lack the evidence to validate such enterprises' investment case and impact on women's economic empowerment and low carbon development.
Alaska Tanzania faces challenges in sourcing from more women farmers since women have limited access to finance and training on GAP. Aquarech faces challenges in linking women farmers to inputs and knowledge on GAP, as most of their suppliers and customers are men. Women traders also face challenges accessing fish due to underlying social issues, like fish for sex (FFS) required to access fish, and in effect affecting their equal opportunity to earn a living from fish trading.
Intellecap conducted a needs assessment of these two enterprises which surfaced the opportunities for gender mainstreaming across their operations. Over and above the impact on improving livelihoods of the people in the community, Alaska Tanzania can increase sourcing from women farmers through contract farming, supported by linking the women to capital, markets and agronomy training. For Alaska Tanzania's women customers, who are micro traders/ street food vendors, also known as Mama Lishe, there is an opportunity to scale their businesses by linking them to financing partners and providing capacity-building support on business management.
On the other hand, opportunities for Aquarech can increase access to fish feed for its women fish farmers and improve access to markets for the women fish traders and thus potentially reducing their exposure to fish for sex.
In addition, increased use of the digital platform has the potential to better link fish farmers to inputs and advisory services while transparently linking traders to markets.
The enterprises will spend the first six months of the program going through targeted gender-lens business development support. Support includes developing core value propositions through a business model canvas, market analysis and marketing opportunities, scaling strategies (including business planning, growth and operational efficiency), team and partnership management, financial management, capital raising and investor readiness. Intellecap will work with each of the enterprises to develop a Gender Action Plan which will guide them in their gender mainstreaming efforts across their operations.
By gender mainstreaming and including more women as customers and suppliers, the enterprises will increasingly impact women by helping them to cope with climate change. Adoption of Gender Action Plan by these enterprises will not only lead to women's economic empowerment but also contribute to transition to a low carbon economy through the climate smart agriculture techniques they adopt.