March, 09, 2016
Is soft money hindering enterprise growth in Africa?
Financial Services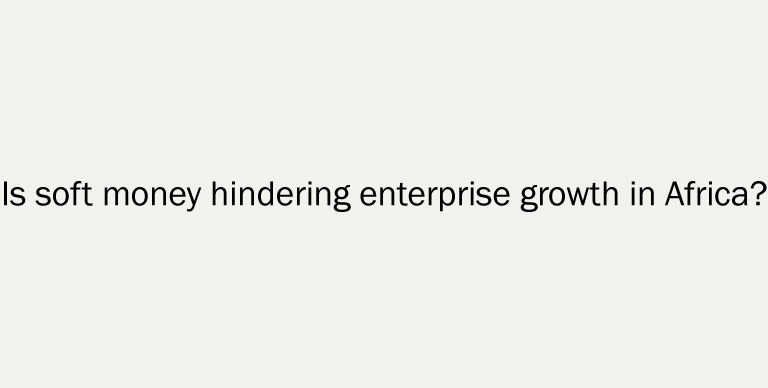 Posted by Carolin Schramm on February 25, 2016 in "The Practitioner Hub for Inclusive Business"
Sankalp Africa 2016 kicked off with an inspiring debate bringing forward divergent opinions on the use of soft money in encouraging sustainable entrepreneurship in Africa.
Andia Chakava from Alpha Africa Asset Management and Suleiman Kiggundu from CDC were introduced arguing against soft money. Hugh Scott from AECF and Mark Carrato from USAID took the position that soft money has a role to play in supporting commercial enterprise growth.
The debate didn't get overly heated and panellists did not necessarily fully stick to their assigned 'roles' but some interesting viewpoints were shared:
No role for soft money?
A good business idea isn't enough. The right business model that is scalable plus the right company governance structure are key success factors for enterprise success. Entrepreneurs who have these things in place don't need soft money
The majority of entrepreneurs are not looking for charity
Soft money risks the creation of a bubble for entrepreneurs, after which it is hard for entrepreneurs to survive in the real world
A role for soft money?
If job creation and inclusion of poor people are key objectives, soft money is needed
Soft money is necessary to seed entrepreneurship and provide necessary capital infusion to operate and sustain difficult geographies and hard to reach target audiences
Venture capitalists often don't have the necessary risk appetite or patience needed by these enterprises
Soft money has a role to play but focus on financial sustainability has to remain priority
Shared challenges and a potential role for both?
Failure happens on both sides
Investors need to be clear about their objectives in order to decide what type of money is needed
Donors, investors and entrepreneurs are speaking different languages which is part of the problem and hinders collaboration
Greater alignment is needed between both types/stakeholders and it shouldn't be a choice about which camp you are in
My own views?
My experience of working with enterprises across Africa (and Asia) is mostly based on the provision of soft money and technical assistance programmes, and I definitely think there is a role to play for grants, awards and business advice.
I have seen enterprises growing successfully (and commercially) with initial grant finance. There are various – more or less well known – examples, the mostly cited one probably being MPesa, but other inspiring ones like MKOPA, dlight or Sanergy are getting increasing recognition, too.
Equally, I definitely also came across several enterprises, e.g. as grantees of a challenge fund 4/5 years ago from one donor, which is now receiving grant support from another donor programme.
This makes me wonder how much soft money should be 'enough'? Given the diverse nature of enterprises, the challenging contexts they often operate in and the business model adaptations they may have to go through to find the right one, there might not be a standard answer to this question. But certainly I strongly agree with the need for greater alignment and coordination between the different stakeholders offering soft and hard money to entrepreneurs.