January, 14, 2019
In Conversation with Dr. Indu Bhushan, CEO, Ayushmaan Bharat
Health & WASH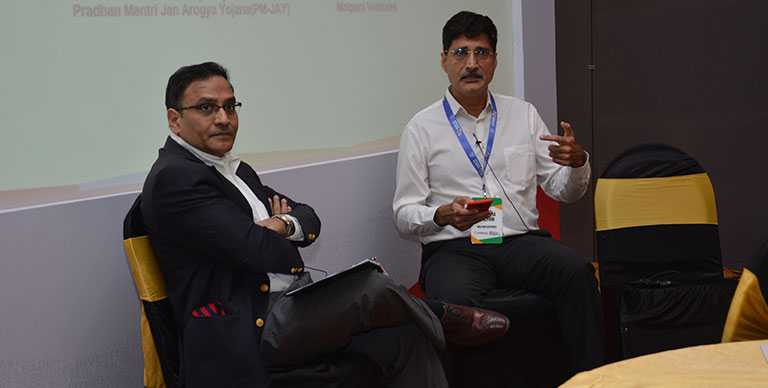 Estimates suggest that, 6 crore Indians are driven into poverty every year because they are unable to afford the cost of healthcare. An overwhelming 62% of healthcare expenditure in India is met out of the pocket of individuals1. This pushes about 10% and 6% of rural and urban households respectively below the poverty threshold every year2.
In order to address this problem, the Government of India has launched the Pradhan Mantri Jan Arogya Yojana (PM-JAY) on 23rd September 2018. At the 10th Sankalp Global Summit, Dr. Indu Bhushan, the CEO of PM–JAY candidly speaks to Dr.Aniruddha Malpani about this scheme and the progress its has made in the first 80 days of launch.
AM: How does the PM-JAY Scheme address the problem of high out of pocket expenditures on healthcare?
IB: The scheme was launched with the aim of providing secondary and tertiary health insurance coverage of up to Rs.5 lakhs per year per family to about 10 crore poor, deprived, rural families in India. Those who are eligible for the benefits of the scheme are families belonging to backward classes, who would typically not be able to afford healthcare treatments at private healthcare providers. These families have been successfully identified as beneficiaries and we currently have a list of 500 million such people who can avail of the benefits of this scheme.
AM: How far have we come since the launch of the scheme in September this year?
IM: Today marks about 80 days of the scheme being launched. So far around 15,000 hospitals have been successfully empanelled under the scheme and 33 states have come on board. To date, 700 crore rupees have been provided to about 5 lakh patients across the country. About two-thirds of all the people who have claimed reimbursements have visited private healthcare facilities, which they wouldn't have been able to afford previously. So, I believe, so far so good.
AM: Being a practicing doctor myself, I find that doctors are good at dealing with individual patients and tend to use a more bottom up type of approach. On the other hand, economists tend to look at the bigger picture using a more top down approach. Do you find that there is tension between the two in the implementation of the scheme?
IB: In the conversation about the economists versus doctors, we tend to forget the most important leg, which is the patient. We want to prioritize the patient in this scheme and give them the freedom to choose the provider that they want to go to, either public or private, depending on the perceived quality of care.
There was a case in Delhi where a person went to Safdarjung hospital, which is a large public hospital in Delhi. He was told he needed to get a stent, which would cost about Rs.35,000. Upon discovering that he was a PM-JAY beneficiary, he left and chose to get the surgery done at a private hospital instead where he would be able to avail of better quality services. The hospital staff was astounded that they had lost a patient but that is going to happen more and more now since patients have the power to choose.
Therefore, good quality healthcare providers need to be highlighted. I envision that the next phase of the scheme is to have a website or an app wherein patients can rate or score healthcare providers based on the quality of care and this information will help keep patients better informed.
AM: Another commonly heard criticism among doctors is that the prices for different procedures, which have been set under the scheme, are so low that they are not going to be able to provide quality of care within those prices. How do you plan to tackle this problem?
IB: I agree with the fact that our prices need to evolve and we may not currently have the methodological rigor that they should have in order to determine prices at the moment. This is something that we are continuing to work on. There are a few important factors to consider here:
This is a scheme where we want to move from a high margin, low volume to a high volume, low margins scenario. There are 500 million beneficiaries of the scheme, which is a huge number. So, calculating the accurate price packages is extremely difficult right from day 1, but this is something that we are continuing to work on.
The other factor to consider is that our country is very heterogeneous; for instances prices in Mumbai will be very different from prices in Nagpur. There are 2 main factors that drive the overall price; real estate costs and human resource costs. These vary hugely across the country and we are working to develop rational prices for every part of the country.
Thirdly, we have given each state a certain amount of autonomy in the form of a price band and they have the flexibility to choose prices within that prescribed band as they deem fit.
My appeal to doctors is to be a part of the scheme and also help us make it more sophisticated over time.
AM: Another big concern about the scheme is the possibility of overtreatment and fraud, which has the potential to become a very big money suck for the scheme. How do you plan to deal with that?
IB: This is one of the most critical issues for us within the team. Abuse and fraud will not only suck money out of government chuffers but will also give the scheme a bad name. This can cause the scheme to lose the political support that it enjoys today. We have already seen this happen in the case of the RSBY (Rashtriya Swasthya Bima Yojana) scheme in Uttar Pradesh and Bihar.
In the case of prevention of fraud;
Firstly, we have identified packages that are most prone to fraud and we have kept them exclusive to the public sector. We will also be consulting with certain organizations to provide these specific packages.
Secondly, we are heavily investing in data analytics and big data, which can help identify cases of fraud and malpractice in a timely manner.
Thirdly, we will be conducting some medical audits periodically to get a better sense of this.
Ultimately, I think community engagement is also critical for this. We are always speaking to patients about their experiences and through the power of social media we hope we are able to get enough feedback from patients so that these instances can be successfully minimized.
However, I am under no illusion that this can be prevented entirely because internationally, the case is that about 6%-8% of the total claims turn out to be fraudulent. We are trying to keep this number as low as possible and will adopt a zero-tolerance policy for fraud.
We are also having some workshops with the state level implementers this weekend in order to build their capacity on methods of fraud detection and prevention.
AM: What is some of the most useful criticism that you have received so far?
IB: Our biggest criticisms have come from social media channels that have regularly reported on instances where there is a low level of readiness of providers to implement the scheme. This is useful and informative for us. So far there has been limited supply of these healthcare services in remote areas primarily because there is low paying capacity in these areas. This has been regularly brought up as a criticism of our current healthcare system. But with the introduction of this scheme, our hope is that the market will respond to the increased paying capacity and there will be an improved supply of services in these areas as a result.
AM: How can start-ups, investors and healthcare entrepreneurs leverage data that is being captured under the scheme to help foster innovation?
IB: As we move along, we will have more extensive data on all the beneficiaries of the scheme, their geographical distribution and the kind of services that are being availed of. This will be a gold mine of data for us to for policy analysis and specifically to develop the scheme accordingly so that we can serve them better. We also hope to work with providers and startups, which can use this data effectively to generate useful insights from it.
Additionally, we are currently in the process of establishing an innovations unit within the government machinery which will facilitate and catalyze innovations and will act as an interface between start-ups and the Ministry of Health and Family Welfare in order to take these innovations forward.
National Health Accounts Estimates for India, October 2017. Available here.
Ladusingh L and Pandey A. 2013a.Health Expenditure and Impoverishment in India, Journal of Health