April, 12, 2013
Impact Investing in Asia: From Promise to Realization
Financial Services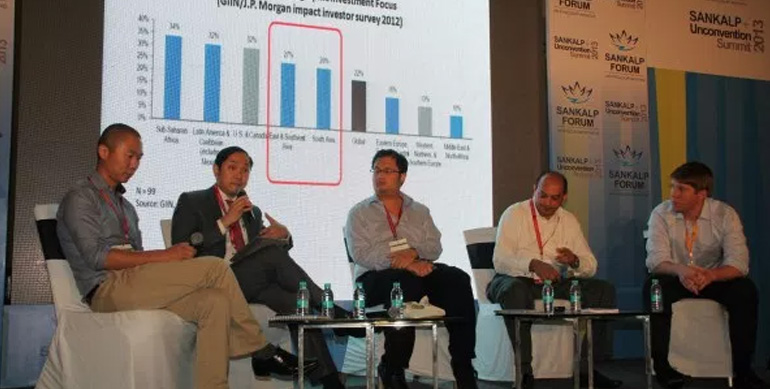 In the upcoming Sankalp Forum, East and South-East Asia will be well represented by a panel of organisations committed to helping scale innovation and social enterprise. While the projections of the 2013 GIIN-JP Morgan report are cause for optimism, these regions suffer from the usual industry challenges: a nascent pipeline and a general disconnect between investors and entrepreneurs. In this post, we at SOW Asia will firstly list some commonly identified challenges in the current pipeline that we hope the upcoming panel can share insights on, and secondly, to share our current feedback from discussions with social enterprises, and other stakeholders in the social innovation and impact investment ecosystem.
One of the challenges facing East and South-East Asia are the next steps from market fragmentation to consolidation. Building the marketplace requires effective intermediation, sufficient infrastructure, and enterprises able to receive investment. Generally, the focus has been on the first two components, but how can impact investors better serve the ecosystem by increasing the capabilities of social businesses? If the pipeline is lacking, then how can capital (both financial and non-financial) that is available to the most promising social enterprises be provided to more enterprises that could become viable investments if given the support to do so?
This leads to the challenge of accounting for on-ground insights from social enterprises. Here, we would argue that attention must be paid to the increasing numbers whom are interested in the space, but not yet engaged. Viable social enterprises must have goods or services aligned with demand for an unmet social need and a team that is able to execute. While internally strong, these types of organizations have often been nurtured by external support, in one form or another. While a usual solution for increasing the pipeline has revolved around casting a wider net, another key question is how might investors or supporters engage social enterprises beyond commercial considerations? How are they communicating with social enterprises and how can those channels be strengthened?
Recently, SOW Asia has gleaned new insights by bringing together diverse young leaders and experienced professionals from the corporate, social and entrepreneurial spaces in Hong Kong. Curated conversations in small groups have clarified key barriers to capable people taking a leap to action. Many deficiencies were noted, including the lack of: visible community, success cases, social prestige or respect, competitive wages, safety net for high-risk initiatives, infrastructural support, ways of meeting like-minded individuals to build teams.
Many of these issues are familiar to all of us and need to be addressed. Accounting for them suggests that investors and capacity builders need to constantly consider new strategies in order to make the kinds of investment that will serve society. For South-East and East Asia's current stage, concrete scaling might demand smaller steps: a one partnership at a time support capacity approach that challenges the very core of impact investment. Instead of waiting to catch social enterprises after a certain milestone, perhaps it is worthwhile to explore a realignment of expectations between entrepreneurs and investors, so that all stakeholders can invest their resources to an effective strengthening of the industry.
Asia's impact investment industry is at a critical juncture: on the one hand some challenges, such as the pipeline, have yet to be solved, while on the other there is an encouraging growth of interest in social enterprise and the wider ecosystem from all sectors. As the discussion continues, investors need to develop strong feedback channels from social entrepreneurs and other stakeholders. This will likely include finding new strategies that take their needs into account, not only at regional and regulatory levels, but also at local and individual levels.