September, 28, 2017
Establishing symbiotic relationship between corporates and social enterprises could leapfrog inclusive development
Multi Sector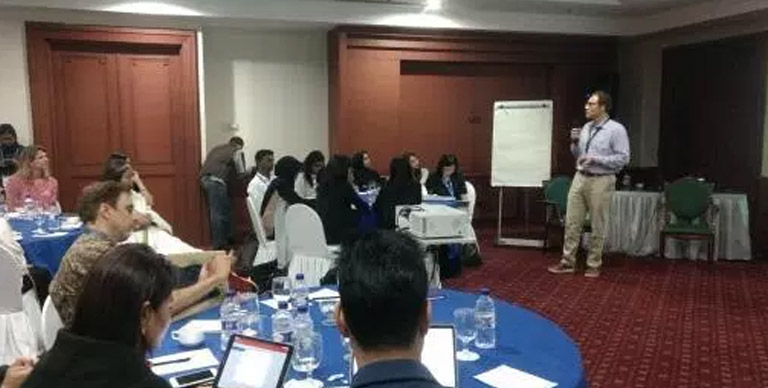 With the introduction of the Sustainable Development Goals (SDGs), partnerships between corporates and social enterprises are increasingly seen as critical stepping stones towards long-run sustainable inclusive development. While such partnerships have the ability to address development challenges across the Global South, they provide an equally lucrative value proposition for corporates. Some forward-thinking corporates are already taking a strategic approach, by leveraging social enterprises to increase their market presence, build stronger and more efficient supply chains, develop new products, and engage a larger customer base.
These partnerships have a huge potential to transform traditional businesses. At the recently concluded 3rd Sankalp Southeast Asia Summit, Eden Strategy Institute discussed the need for Corporate- Social partnerships and the approach needed to make these partnerships sustainable. Eden Strategy Institute is a leading consulting organization in South-East Asia that collaborates with the worlds most successful organizations to work on the areas of economic development, education, environmental conservation, global health, resource efficiency, and trade. Calvin Chu Yee Ming, Managing Director of Eden Strategy Institute proposed five areas where corporates can look to support and partner with social enterprises; securing more dependable sources of supply, innovating new products, developing new markets, enhancing market access, and building their brands.
The social enterprises in turn can help corporates reap the benefits of local and community knowledge, lower costs towards programming and coordination, and expertise in sustaining and managing the program. According to Calvin, sourcing is a key business function where social enterprises have delivered high value, as shown by Nestle in the milk industry. For Nestle, rural development along with nutrition and water became the main focus of Creating Shared Value, an essential part of its business strategy. As part of its commitment to developing agriculture, Nestle has developed and maintained several public-private partnerships models.
Calvin also highlighted that within the corporates, partnerships were driven by the business units having clearly defined business goals, rather than the CSR department or the corporate foundation. Social enterprises should tap into the marketing and innovation budget by outlining the economic benefits to the corporates by adopting innovation in pricing, reduction in cost, increase in sales etc. The partnership can also help the social enterprise link its beneficiaries to markets and deliver impact on a larger scale. These partnerships offer social enterprises with sustainable, secure, multi-year funding, as well as access to corporate partners trained staff, technologies, and expertise.
Antoine de Carbonnel, Chief Commercial Officer of Go-Jek, the famous Indonesian hyperlocal transport, logistics and payments startup which aims to improve the welfare of workers in Indonesias vast informal sector, reiterated the importance of strategic partnerships between Corporates and social enterprises. He said there is a need to leverage the understanding of the local market, designing of products that are demanded by local people, improvement of customer service, and pricing. These enterprises could be in the form of technology providers, local vendors and/or payment vendors (like Pau U) which provide efficient last mile connectivity.
Antonie cited an example of Go-Food, Indonesia's largest food intermediate service with over 75,000 restaurants in one app in Indonesia. With less than 5% penetration of credit/debit cards in Indonesia, partnership with social enterprises that offer last mile payment collection was a big boost for the business of the company. He highlighted that while the promise of corporate-social enterprise partnership is clear, successful implementation has proven more challenging. As social enterprise partnerships affect the core business of the corporates, it is more difficult to implement than philanthropic or CSR partnerships. It requires coordination within a business and among partners across multiple functions such as the social mission of the enterprise; the market development and financial goals of the corporate; and the socio-economic requirement of the region. Without alignment of objectives, participants are invariably less invested in the partnership
In a nutshell, while there are multiple examples of corporate-social enterprise partnership with brands such as Nestle, Starbucks, Unilever valuing and developing multiple partnerships, the question is – how will the market emerge in next decade? Partnership with social enterprises could be a major part of corporate strategy that help them reach new customers, develop products, enter new segments, manage supply chains, differentiate their brands, and report to investors. However, there exists a major awareness gap and requires a focussed effort for leading corporates to start valuing the shared value strategies and increase investment to change the way they relate to the underserved markets.