December, 05, 2011
Cracking the Affordable Healthcare Puzzle: Our Conversation with Soalni Healthcare
Health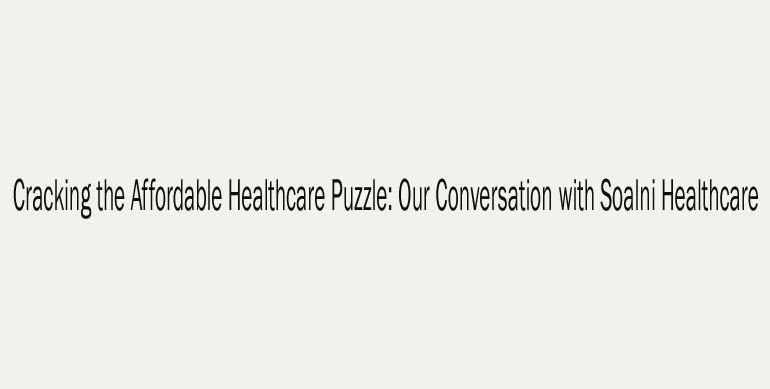 The poor in India spend about INR 280 bn (USD 6.2 bn) on healthcare every year. The majority of this expenditure is on in-patient care (30%) and drugs during outpatient care (33%). In fact, poor households spend more on health-care than the average household in India! There is an acute need for social enterprises that provide affordable and quality health-care services, especially in tier II and III geographies.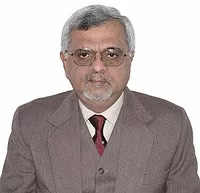 The team at Intellecap caught up with Dr. Sanjiv Malik, Chairman & CEO, Soalni Healthcare who seems to have cracked the code for affordable and sustainable hospital services for the poor. Dr. Malik has been one of the most prominent figures in healthcare in India for more than two decades. He has been the Past National President of Indian Medical Association and the Past President of SAARC Medical Association. He has represented the medical profession on the Central Council of Health & Family Welfare, Govt. of India; on the Drug Technical Advisory Board (DTAB) of the Govt. of India; and on Health Steering Committees of the Planning commission of India. He is the recipient of Dr. B.C. Roy National Award and was the only Indian to feature amongst 63 "Most Caring Physicians of the World" by WMA.
In an insightful conversation with us, he spoke about the efficacy of his model which has achieved break-even in 18 months, the challenges he's dealing with, and the policy climate for healthcare in India.
Intellecap:  Dr. Malik would you like to briefly explain our readers what the mission of your organization is & what motivated you to embark on this?
Dr Malik:  The mission broadly is to bring quality healthcare to those areas of the country where we feel standardized healthcare is lacking. Let me explain this a little more. If we look at the situation of healthcare in India for the last 65 years, since independence there has been a tremendous growth in quality healthcare in the last two and a half decades. 25 years back if I needed to get good cardiac surgery or a joint replacement surgery for example, the only option I had was to travel to one of the developed countries in the world.
In the last 25 years there has been a mammoth growth of healthcare to an extent that it has actually reversed this pattern. India is now talking of health tourism; we are now talking of people coming to us from the developed world for quality affordable healthcare. But at the same time if you look at this entire growth then it seems to be concentrated in 12 to 13 big towns of this country. Everywhere else the development in healthcare has been minuscule. So what has actually happened is while at one end we have developed our healthcare services so phenomenally that they are compared with the best of the world, at the other end where the majority of the Indian masses stay the healthcare is so poor that India can still shamefully boast of some of the worst health statistics in the world. We have the worst infant mortality, maternal mortality and so on.
Now all this has actually happened because there has been no concrete effort to ensure that quality healthcare reaches out to the nook and corner of the country. Reaching the "Last Mile" or the "Last Man" has remained a dream. If you speak to the government then it has a stand of saying that doctors or other healthcare professionals do not go to small towns and villages. If you look at what the government has done, they have set up primary health care centres, community health centre's, district hospitals in every nook & corner of the country but then again these are hardly operational.
I've been associated with the healthcare industry for the last 31 years where I had the pleasant task of heading the Indian Medical Association at the National level for about 6 years. I was also the member of the Standing Committee of Health of the Planning Commission for the past two,  five-year plans. I have been giving my proposals to the government trying to tell them that there is a methodology by which we could take quality healthcare to the last mile.
Unfortunately for various reasons government has paid no heed to what I said. In the private sector, the half a dozen players in healthcare are still focused on specialty high-end hospitals.
I had a chance to meet C K Prahlad, the man who gave the concept of bottom of the pyramid to the world and he explained to me that you can do these things using a business model & yet do a very good job.
So that broadly explains the mission and motivation wherein we thought that let us attempt it on our own & with a group of friends set up Soalni healthcare. Our ambition is  to move out initially to tier II and tier III cities on a 'hub and spoke' model. The 'hub' would be a 150 plus bed hospital which would be a multispecialty hospital and this would give all that people would need, except that 4 % or 5 % of high end medical services which  would be very capital intensive. The 'spoke' would be diagnostic centers and outreach clinics in remote areas. We have set up our first hospital in the rural outskirts of a Palwal in Haryana, this tier II city actually caters to about 250 villages. In terms of impact, we've proven a lot of people wrong who said that you cannot go and deliver good healthcare in rural territories –  where will you get good doctors, nursing staff etc.?  Today, we have built up a beautiful team and practically the whole team stays within the campus.
We also proved that you don't need to be as capital-intensive as hospitals in big towns and at the same point of time just implement a good business model. So we broke even in 18 months whereas big hospitals take 3 years to break even.
Intellecap: Has it been easy to get people to the hospital and make use of your services? What's been working in your favor and what challenges do you still need to overcome?
Dr Malik: Good healthcare is something which people are willing to pay for. That was my first impression before I started and it has been re-affirmed by our work. Even today, a whole lot of people from all remote corners of the country travel to Mumbai, Delhi, Bangalore, and Chennai for specialized healthcare and they pay huge sums of money. If they get standardized healthcare at affordable rates they would actually welcome it and that is the response we've got from our patients who are looking for good institutionalized quality under one roof.
The challenge in this particular location was that we acquired an existing hospital which did not have a very good reputation and that was the only thing which went phenomenally against us because it takes time to get rid of a past bad reputation. If I would have started with a green field venture in the same area I would probably have broken even within 6 months. Another thing which we have ensured in our project is that we are very transparent; we are very honest and very truthful. We work on very transparent hospital management systems so it is not that anyone can be billed on the fancies of individuals. All the rates and all the services we have can be accessed by anyone.
People appreciate if you are honest and transparent , because unfortunately people have started viewing medical profession as highly commercial and not very honest or transparent. There are some black sheep in the profession but till date I feel that this profession has done a very good job. I think what is important is not only being honest but also appearing to be honest. We have achieved this in a remote area in our internal processes. Let me share an example – when we came in , all our purchases were happening in cash payments and through petty dealers. We systemized the whole thing, today 98% of my payments of expenses in the hospital occur by cheque and that's amazing.
We developed our system; we got our vendors online; we told them that we believe in being professional and don't want to do any cash transactions. Every penny which flows in & flows out of the hospital gets accounted within 24 hrs through the bank. When a patient comes in for a particular procedure, e.g., a laparoscopic gall bladder surgery he/she is informed about the number of hospitalization days, and various packages available. The service will not cost a rupee less or a rupee more – there are no hidden costs and no bargaining.
People in smaller cities are very used to haggling, they say please give us some discount, or please reduce this price. We try to tell people that our rates are so subsidized that if you want to force us to give you  more discounts then we will also follow the same norms that other small nursing homes work on wherein they jack up your rates and then start bargaining. They reacted very positively, and today we don't have people coming to the hospital who haggle with us. They know that what we provide is the best & we charge lower rates than anyone would charge in the country. Recently, in just one and a half years of operations, we were rated as India's most affordable quality healthcare providers by the eWorld Forum 2011.
People think that doctors will not go to small towns. To be honest, nobody has ventured into smaller towns, and set up good hospitals for professionals to go and work there. So if there is a good professional opportunity for people to be working in smaller towns then there are lots of takers.
Intellecap: It's fascinating that you don't face the same talent problem that other social enterprises do. Not just in healthcare but across the board a lot of enterprises are struggling to get the right talent to work in tier II and tier III areas in India .What do you think acts in your favor? How are you able to attract and retain talent?
Dr Malik: It's not rocket science. Let's analyze qualified doctors. For example, we have about six hundred thousand qualified doctors in the country, if you were to do a basic analysis of where these people come from then you will find that these people come from every nook and corner of the country and it's not that everyone who becomes a doctor in India come from Mumbai, Delhi or Bangalore.
So a lot of people who have come up to become doctors & professionals actually have their roots in the small towns, which is a factual situation.
Secondly, all these people are quality conscious & career conscious so say a cardiologist wants to work in a hospital which has a good cardiology setup. After becoming a cardiologist he/she would not want to sit in a primary health centre where you do not even have an ECG . So the growth of quality health centres like I said has remained concentrated to big towns and since the growth is concentrated to big towns the talent is also concentrated there.
Two decades back India was very concerned about brain drain; a lot of people would become doctors here & go to the western world. Why was that? It was because India did not have good centres where they could practice medicine. So today the brain drain is not occurring from India to Texas, Houston or London, but it is occurring from Palwal to Delhi, Mumbai of India because that is where big hospitals are. So if you want to give people good, big & quality hospitals in the territory close to places from they live they would love to settle in there because cost of living in big cities is phenomenal. People want to be close to where their roots are and if they can do a good job there.
Thirdly, if you look at all the big hospitals, even though they have done a great job, all of them are based on what I call 'brand doctors'.
There are doctors who have become very big brands in the country and these are people all these big groups are looking for so you will have such doctors leaving Apollo then joining Fortis, leaving Fortis and then joining Max and so on.
Now if you were to look at any one of these big hospitals, you will be able to name one big cardiac surgeon but there is a team of another 20 people who work there and whom no one knows. Now they are not branded doctors they are the people who are not paid even 10% of what the top Brand gets. So these are people are looking for places like ours where they can be the boss on day one. At Soalni, our consultants are in the local newspapers, local television every other day because they do wonders here. They get recognized, they get a lot of public and media attention, they get paid well, they are the independent decision makers, and they are the bosses that head the team. I think it's not that something worked in our favor, but it's just that we had up guts to venture out and think out of the hat.
On the question of retention, I think it is very important to have an ethical practice. Medical professionals are looking for ethical working environment where they do not have to manipulate things, where they are not under a lot of pressure. I will give you an example, when we were buying our HIMS (Hospital Information Management System) which has lot of modules, there was this one module which we did not opt for and our vendor said, "Everybody wants this module, why are you saying no?". Now that module is called the doctor audit and it audits every doctor in a hospital based on how many X-Ray Scans he refers, how many CT scans he does so it's like an audit to see internally how much business he is generating for the hospital. I said I don't need this because if I do this I am going to put pressure on my team to unethically refer more people for investigation. This is a small step but the consultants say that it makes them feel so nice; they are not under any sort of pressure to do unethical investigations. Of course we keep checks and  balances  to ensure that patient care is not comprised and whatever is required is done but it is strictly based on ethics.
Intellecap: Do you think there are opportunities for affordable hospitals like you all to work in partnership with large, corporate hospitals in urban areas? Is there a possibility of some sort of market linkage there?
Dr Malik: Well we provide 95% of all healthcare services which any human being would need. The remaining 5% would come into the category of what I call highly super specialized services like laser ablation surgeries or radiation oncology. When we need to refer any patient for this, obviously we will refer to some genuine hospital which provides good facilities. At this point a symbiotic relationship between us and a corporate hospital can occur.
There is also a huge possibility of doing and booking certain procedures or surgeries which are human resource dependent and not machinery. For example I can enter into a contract with a corporate hospital where some days are booked for procedures on behalf of them for patients, with follow up care being given as well. That's another area where one could look at some sort of partnering or collaboration.
Intellecap: It is increasingly thought that healthcare in the social enterprises space has some of the most innovative outreach models. What drives this innovation?
Dr Malik: You see health is something which is needed at the doorstep. In the field of medicine we use a terminology called the golden hour concept. Now the golden hour concept is that for a lot of emergencies if you provide healthcare services within the first 60 minutes you decrease the morbidity and the mortality to a great extent. For example if you were to get a brain stroke or a heart attack, or if you were to get a road traffic accident  injury to your brain; you can be saved if you get medical attention within the golden hour.
Secondly, whenever people have to travel kilometers to get basic healthcare they do it purely out of compulsion not out of choice. Take tele medicine for example. By the way, I am not a very strong supporter of the concept though because it still needs a lot of modifications.  However, fact remains that you don't have so much of tele other things as you have tele medicines being talked about in the world because someone wants to come to a centre two kilometers from his house, get the tests done, get the report transmitted electronically, get the report back from a specialized centre, have it analyzed and receive the treatment immediately.
People are constantly using innovative methodologies under healthcare for a very simple reason that this is not something for which you can drive to a shopping mall and get your services .This is something which you need at your doorstep and is available 24 hours a day. You can wait to shop for your food till the shops open, you can wait for a court to open at 10 in the morning, you can wait for your chartered accountant to open up his office in the morning but if you have a health problem at 2am at midnight you need an immediate remedy and that warrants all the innovations which is getting into healthcare. Much more needs to be done.
Intellecap: It is estimated that India's government spending on healthcare is around 2 per cent of the GDP which is a very low compared to our country's huge population. Do you believe that this amount should be increased, and if yes where should this money be channelized?
Dr Malik: We have these figures coming every day. We have everyone talking about developing countries like ours to be ideally spending 5% to 6% on our healthcare. Our spending on healthcare is less and there is no debate about it, it is phenomenally less than what it should be, but who is going to spend and how it should be spent is a question again which has never been answered honestly. If the government increases the spending and opens another thousand district hospitals that are the same as the current ones, then we are putting our national resources down the drain. We have also seen that in the past, it is the private sector which has provided for 77% of healthcare needs.
I think the government needs to work out some partnership with the private sector. Let me give you an example, say there is a person who meets with a road accident, law of the land says he can walk into any hospital and because it's an emergency he needs to be provided with medical care. Let's say that the victim is taken to Apollo hospital, he needs a major neurosurgery, and everything is done. However, who pays for it? The patient can say I never asked you to operate on me, then who pays for it?  Government just enacts the law, but what next?
There is the Rashtriya Swasthya Bima Yojna, but do you know that they only pay INR 500 a day per patient for everything. Regardless of whether the patient is in an ICU; whether he receives medicine worth INR 5000 a day you still get paid only INR 500. Now these things need to be more realistic.
Government should have its checks and balances for the private sector but I think partnering with the private sector is essential. It plays a proactive and positive role in healthcare delivery and that is where the spending should go. However, there should also be a lot of firmness to ensure that ethics don't get comprised, that no one gets cheated.
Intellecap: What's your take on the recent tax break for hospitals?
Dr Malik: I think it's a very positive development. This should have been done long back because we had started giving this benefit to the IT industry and other telecom industries long back. Healthcare has only just joined the group. There needs to be more incentivization since this is not enough. The thinking needs to be more innovative.
You have about 300 medical colleges out of which 50% are private. I suggested to the Planning Commission that each one of them should be asked to adopt 50 villages mandatorily under the law and when they come to the government for the renewal of their registration make it mandatory that they should have 50 outreach clinics in 50 villages. Incentivize them for that –  give more seats to their medical college, or a longer recognition.
Intellecap: In your experience do you think the government understands the practitioners view point? Do they really understand the challenges you deal with?
Dr Malik: I think more professionals who have experience of what actually is happening in healthcare in the territory need to advise the government. You cannot sit in air conditioned rooms in health ministries across the country and plan healthcare policies.
Intellecap: Do you think there is any sort of dialogue happening now which is constant between the practitioners and the government. I understand that you are a part of a few panels but is that a common thing among your other colleagues as well?
Dr Malik: No it is not. It is very low compared to what it should be. I think the government needs to do a phenomenal amount of homework and try to get a good assessment of how healthcare sector should be run in a country.
There is no data compilation; there is no health statistics which are maintained correctly. 200 people will die of dengue fever and then someone will wake up and say that there is an epidemic.  I think this needs to be revamped and totally revolutionized, small inputs from here and there is not going to help, the whole thinking is wrong.
Intellecap: What according to you are the 3 things which the government of India should do to attract entrepreneurs like you all to start initiatives in affordable healthcare?
Dr Malik: First and foremost, and I may sound very stupid, but stop criticizing the medical profession saying that they do not go to remote areas and villages. It has become fashionable for the government to be blaming the medical community's unwillingness to work in rural areas for poor healthcare services. They should stop saying that and build infrastructure to encourage doctors and other healthcare professionals to go to these areas.
Second, the government needs to partner with the private sector and needs to come out with public private modules exclusively for remote areas. We've all heard about public private partnership modules where they are building big hospitals in the Delhi's and Mumbai's of India and saying please come over and manage this. Give high quality government-made rural facilities to the private sector, and encourage players to come into this arena. Public private partnership in healthcare should be separately structured and incentivized.
Lastly, there could be a government sponsored capital provision on easy rates and terms for expensive life-saving medical equipment for entrepreneurs working in small towns. If I want to buy a CT scanner and I want to go to a village and use it, then there should be a government scheme or methodology wherein I get a grace period for paying off the money, or I get a special interest rate because I am going to a small town. Medicine is very technology driven today, no one can do without the expensive machines. So entrepreneurs need to know that they have some kind of hand-holding from the government for providing healthcare in a village instead of a city.