Social Enterprises as Job Creators in Africa – A 3 Part Siemens Stiftung Report. Enabled by Intellecap. 2020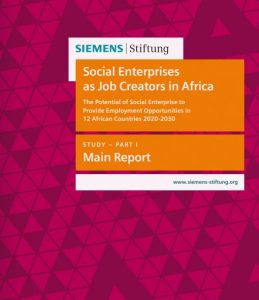 'Social Enterprises as Job Creators in Africa – The Potential of Social Enterprise to Provide Employment Opportunities in 12 African Countries 2020-2030' estimates that, by 2030, 1 million new jobs can be created in Africa based on a comprehensive analysis looking at 12 selected countries in the region. However, interventions are needed now in order to support impact-oriented social enterprises (SEs) in creating such jobs.
The study looked at job creating, as well as job inhibiting, factors for SEs based on different country contexts, in addition to demographic perspectives related to the African job market and the quantification of SE job creation potential in each country of focus. At a micro level, case studies on 5 SEs operating in different African countries and in different sectors has been conducted to identify individual supporting or inhibiting conditions for job creation in particular. The results have been used to recommend a set of interventions that would support SE job growth in Africa, including: financial support, technical support, improvements to the enabling environment, and improvements to moderate data availability. Siemens Stiftung is convinced of the concept of social entrepreneurship and the roles that impact-drive entrepreneurs play in improving living conditions. The foundation urges players in the international development ecosystem to support SEs in an effort to meet the demand of these immense challenges.
The study has been conducted and published by Siemens Stiftung and was funded by the Special Initiative on Training and Job Creation of the German Federal Ministry for Economic Cooperation and Development (BMZ), implemented by Deutsche Gesellschaft für Internationale Zusammenarbeit (GIZ). The report was enabled by Intellecap.
It is published as a trilogy that comprises of: The Main Report, Country Profiles, and Case Studies.