September, 09, 2019
Why this year's Lakme Fashion Week marks a milestone in the journey towards a sustainable & circular textile and apparel industry in India
Multi Sector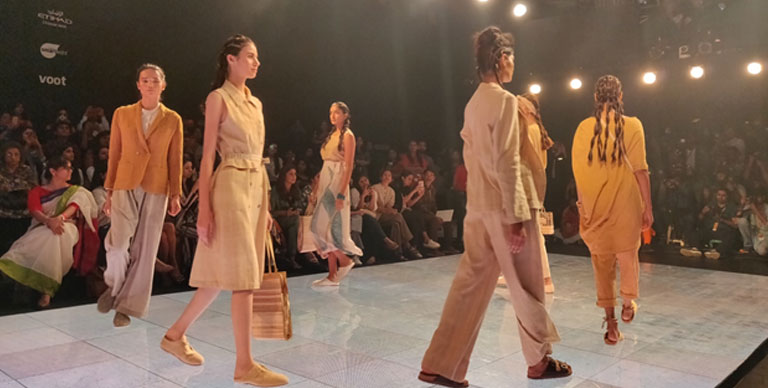 Intellecap CAIF Highlights from Lakme Fashion Week
Stefanie Bauer-Vemuri, Director Circular Apparel Innovation Factory
As the curtain goes down on this year's Lakmé Fashion Winter/Festive 2019 in Mumbai, Stefanie Bauer, Director of Intellecap's Circular Apparel Innovation Factory (CAIF), reflects on why 2019 marks the beginning of a new chapter in India's textile and apparel industry.
1. Fashion beyond the runway
It was only our second time at Lakme Fashion Week, but as we are working with industry partners to transition towards more circular business practices, for us, this year's event opened a new chapter for LFW and the sustainable fashion agenda in India. Congrats to IMG Reliance and its partners for creating not only a platform for showcasing the latest fashion trends on the runway, but also a space for discourse, collaboration, and innovation. Alongside the glamour of the fashion shows, a number of parallel events engaged stakeholders from across the industry in conversations around how to change the face of the industry and decrease its negative environmental and social footprints.
This certainly represents a new era for India's fashion industry. As Gautam Vazirani, Head of Sustainable Fashion at IMG Reliance, said, perfectly capturing this transformation: "We have never had a 9 am event at Fashion Week, and that too with a full house!"
Given India's position as a leading manufacturing and emerging consumption hub globally, the question of sustainability looms large on the sector: The Indian textile and apparel sector is one of the most polluting and characterized by multiple social inequities. Globally, the production of textiles results in the creation of 1.2 billion tonnes of greenhouse gases each year; the industry is the world's second largest polluter, and estimates indicate its contribution to global climate change is peaking at 8.1%. The Indian textile industry is a major contributor to waste and pollution with nearly 5% of all landfill space being taken up by textile waste and 20% of all fresh-water pollution being made by textile treatment and dyeing plants.
Recognizing this need for a disruption of the industry, this year's LFW stimulated the debate on what is needed to make that transition happen.
2. Innovation beyond design
At the core of this conversation was the need for innovation across the supply chain: While brands and designers have traditionally been the key audience at LFW, this year's event saw a lot more participation of innovators across the supply chain and the broader innovation ecosystem. In a first of its kind event, the "Change Makers Showcase" jointly organized by Circular Design Challenge by IMG Reliance, R I Elan and its partners and Circular Apparel Innovation Factory, six innovative enterprises presented their solutions for making the fashion industry more sustainable and circular: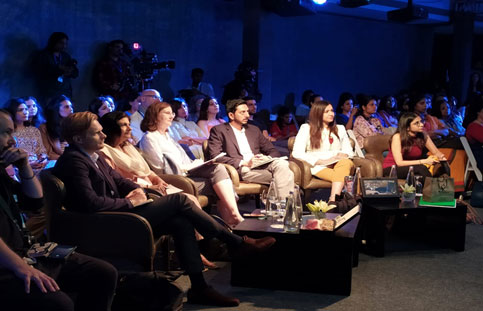 The enterprises presented their solutions to a panel comprising strategic investors who offered their support to the innovators: Priyanka Khanna, Lead – International Expansion, Fashion for Good; Kartik Desai, Executive Director, Asha Impact; Divya Gupta, Aavishkaar Venture Management Services; Erik Karlsson, Head of H&M Co:Lab; Radhika Nath – Executive Director, Mahindra Retail, and Renata Lok Dessallien, Resident Coordinator of the UN in India.
The event highlighted that building a new fashion economy must necessarily involves the larger innovation ecosystem.
Bringing innovative business models to the forefront was also the focus of the Masterclass on Circular Fashion, hosted by Fashion for Good as a lead-up activity to their 2020 Fashion for Good South Asia Program. A number of success stories illustrated how innovations are transforming the fashion value chain and outlined the need for the fashion industry to shift towards a more regenerative and restorative system to overcome its environmental and social impacts.
3. A new fashion agenda for India
We are confident that the conversations at LFW will translate into action on the ground, as 16 of the largest industry players made a commitment under the newly launched project SU.RE to set a sustainable pathway for the Indian fashion industry. Launched by Union Minister for Textiles, Smt. Smriti Zubin Irani at Sustainable Fashion Day on 22nd August, 2019, SU.RE stands for 'Sustainable Resolution' and marks the first holistic effort of the industry to move towards fashion that contributes to a clean environment. The signatories to the pledge for project SU.RE are sixteen of India's top fashion and retail brands and CMAI members such as Future Group, Shopper's Stop, Aditya Birla Retail, Arvind Brands, Lifestyle, Max, Raymond, House of Anita Dongre, W, Biba, Westside, 109F, Spykar, Levi's, Bestsellers, and Trends among others, who signed a five-point Sustainable Resolution:
Develop a complete understanding of the environmental impact of the garments being currently produced by our brand.
Develop a sustainable sourcing policy for consistently prioritizing and utilizing certified raw materials that have a positive impact on the environment.
Make the right decisions about how, where, and what we source across the value chain by selecting sustainable and renewable materials and processes and ensuring their traceability.
Communicate our sustainability initiatives effectively to consumers and media through our online and physical stores, product tags/labeling, social media, advertising campaigns and events.
Through these actions, shift a significant percentage of our supply chain to a sustainable chain by the year 2025, addressing critical global issues such as climate change, contributing to the UN Sustainable Development Goals, and building a world that is safe for the future generations, as an acceptance of a responsibility we all share.
We at Intellecap through the Circular Apparel Innovation Factory and our partners The DOEN Foundation and Aditya Birla Fashion and Retail are committed to supporting the sector by building capabilities and the ecosystem that is needed to make this transition towards a circular textile and apparel industry become a reality.
Join us at http://circularapparel.co if you want to be part of this ecosystem.