February, 06, 2023
Sunny prospects for decarbonizing MSMEs in India's fashion industry
Circular Economy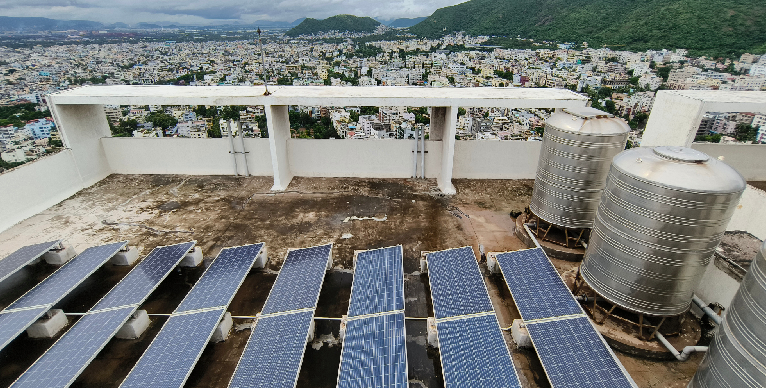 More than 130 global fashion brands including Burberry, H&M Group, VF Corporation, adidas, Kering, Chanel, Nike, and PUMA as well as suppliers such as Crystal Group and TAL Apparel came together in 2018 to commit to climate action under the aegis of the UN Climate Change.
As a result the Fashion Industry Charter for Climate Action was created with an aim to drive the fashion industry towards halving carbon emissions by 2030, and net-zero emissions no later than 2050, in line with keeping global warming below 1.5 degrees. Initially, these commitments focused on direct emissions (scope 1 and 2), but now most companies have pledged to reduce their (scope 3) upstream and downstream value chain emissions.
However, in spite of such initiatives, the industry will fall short of the 2030 targets by 36% (0.37 Gigatonnes), even if it achieves, among others, maximizing energy efficiency, elimination of coal usage for heat, and switching to 100% renewable electricity. This fact underscores the need to exploit all viable decarbonization options to their fullest potential.
Today, 75% of fashion brands' lifecycle emissions come from upstream purchase of goods and services, transport, and distribution within the supply chains. MSMEs dominate India's fashion supply chains accounting for 38% (1,352) of textile mills, more than 90% (1,850) of the processing units and for most of the 75,000 apparel manufacturing units in India. 57% of India's clothing output comes from 2.5 million power loom MSMEs.
MSMEs are largely reliant on electricity generated from polluting coal power plants and need to shift to renewable energy
MSMEs in India, including those that constitute fashion value chains, continue to rely primarily on the grid's carbon intensive (74.7%) electricity. As per Indian government policies, they cannot procure (renewable) electricity from open market, by virtue of having a connected load of less than 1 MW. This limit is reduced to 100 kW in June 2022 by the union government of India, but states need to enact supporting legislation yet.
Rooftop solar power is the only viable renewable electricity option for MSMEs at present, because of its grid parity and government's policy support. Since 2019, rooftop solar power was available at INR 3.5-4/ kWh under a 10-year Power Purchase Agreement (PPA), against the grid (predominantly thermal powered) tariff usually in the range of INR 6-8/ kWh for industrial MSMEs. It helps reduce the carbon footprint of operations, compared to the conventional grid electricity. Thus making rooftop solar power economically viable and sustainable. 
Despite grid parity, MSMEs have not been able to exploit rooftop solar power, because they lack the ability to invest in captive renewable electricity projects, or the creditworthiness to sign PPAs with Independent Power Producers (IPPs). In India If they are based out of leased premises, further complications arise because of the uncertainty beyond the lease period and the ownership of the utility meter being in the landlord's name. 
MSMEs pose counterparty credit risk to the solar IPPs, in terms of delaying or defaulting on tariff payments. Even in the case of utilities, this is one of the most important risks to the Indian renewable energy sector and adds as much as 1.07% of additional risk premium to the cost of debt for renewable energy projects and limits the availability of capital.
Intellecap's CAIF has designed a solution to help address the challenge of creditworthiness of MSMEs, and enable access to affordable solar energy
Leveraging its parent company Aavishkaar group's NBFC expertise, and its own experience of working with fashion brands, their MSME supply chain partners, and Development Finance Institutions (DFIs), Intellecap is designing a solution to this problem by combining the financial credibility of the brands with the cost savings that can accrue to the MSME from cheaper solar power.
The solution involves setting up a payment guarantee mechanism by the fashion brands for their MSME suppliers, to ensure timely payment of rooftop solar tariff payments to the IPP. The brand could deduct money from material-related payments to the MSMEs in case of delays.  This alternative to third-party underwriting is compelling due to the strong recourse option; and long-term business relationship between the brand and the MSMEs. The difference between the IPP's expected PPA tariff and the MSME's grid tariff will cover the cost of the guarantee. Moving forward the solar plant could be transferred to the MSME, free of cost after 7-10 years, determined by the PPA tenure and landed tariff.
Intellecap's CAIF is working towards testing and validating this model. Once the proof of concept is established, we envision this model could be successfully scaled (with customization) across the global supply chains with brand-MSME business visibility of 5-7 years.
Over the 3-year period we would like to work with 5 brands, 100 MSMEs, deploy 25 MW of solar PV capacity, create 500 green jobs, and achieve savings of 30,000 tons of carbon emissions per year. Fashion brands & potential partners interested in decarbonizing the MSME supply chains could reach out to us.
By
Ashok Kumar Thanikonda
Manager, Intellecap