August, 16, 2013
Development to me is consensus driven & goes beyond metrics
Multi Sector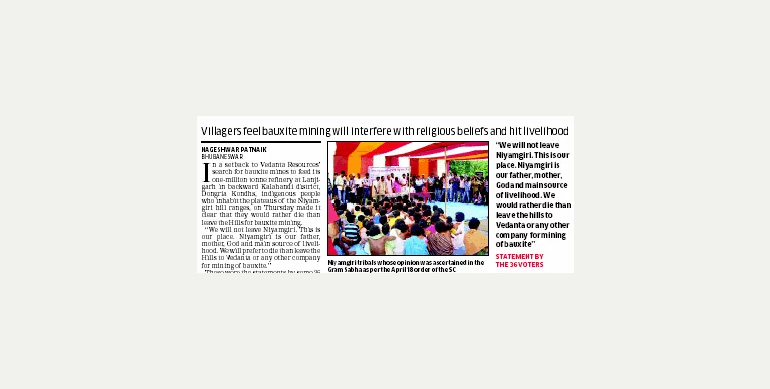 After the first blog in our special Independence Day series, we hear from renowned academician Prof. Madhukar Shukla on what development should be after 66 years of freedom.
In the last month, just as we were approaching India's 67th Independence Day, an unprecedented development in the history of India was unfolding in a remote place in Odisha. For the first time in the country's history, the government had asked the inhabitants of a place whether they wanted "development".
What made this exercise significant was the fact that the people who were asked to voice their opinion were part of the mostly neglected 9% of India's population – the "tribals" – those too from just 12 villages on a hill, Niyamgiri (under which there is a huge deposit of bauxite). In absolute numbers, they comprised of merely a few hundred; but the fate of an INR 4500 cr mining project depended on their opinion.
By 13th August, 11 out of the 12 villages had voted against the project; they did not want to be "victims of development".
Whether they were right or ill-informed and whether their voice will eventually be heard or not is something we will only know in the times to come. But, for me, in these developments was a glimmer of hope – a representation of what development/ progress can be.
Why? I have always felt that our concept of "development/ progress" is warped; it suits the aspirations of a certain segment of society that has nothing to give or lose. I find it most curious that:
Development projects that aim to create benefit for the larger society never include an essential clause – that the worst-affected by these plans are heard and are also the first beneficiaries instead of being the "victims" of that development/ progress.
Those who talk about the "need for some to sacrifice for the larger good" are not really those who actually sacrifice their lives/ homes/ livelihoods for the "development of the country".
Those who were supposed to make this magnificent sacrifice for the sake of the country are the same set of people – and they make the sacrifice time and again. They lose their land because of an irrigation project/industrial development, and become slum-dwellers. And then they lose their slums because they are part of the urban squalor that needs to be removed.
It is in this context that what unfolded (is unfolding) in Niyamgiri is the metaphor for what development/ progress means to me:
Local remote voices – however small and marginal – should have a say in determining their own fate in the saga of development/ progress.
The measures of "progress/ development" are people and environment – and not merely numbers (GDP, FDI… or whatever).
As Gandhi had said many years ago, "True democracy cannot be worked by twenty men at the center. It has to be worked by the people of every village."