January, 03, 2020
Catalyzing Private Sector Participation in FSSM in India
Multi Sector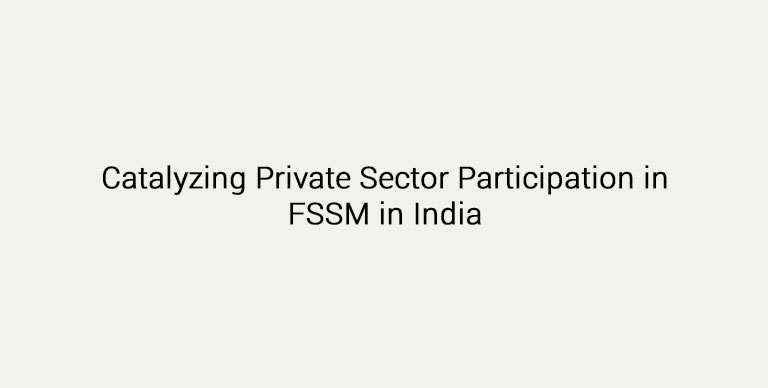 India's human waste problem is critical and in need of urgent attention. Even as 96% households with toilets in urban India are connected to either a sewerage network or have On Site Sanitation (OSS) systems, 70% wastewater generated is untreated and discharged in water bodies or on land. The health and environmental impacts of inadequate sanitation in India add up to INR 2.44 trillion (USD 53.8 billion) a year.
However, both UGD based sanitation systems as well as OSS systems are expected to increase over the years, with required capacity for faecal sludge treatment rising to 61 million liters per day by 2024. Over 2,000 Faecal Sludge Treatment Plants (FSTPs) will need to be constructed in order to meet this demand along with an investment requirement to the tune of INR ~6,000 crores over the next 5 years.
Given the significant opportunity, companies operating in areas such as Engineering Procurement & Construction (EPC), solid waste management, wastewater treatment etc. are already participating in FSTP tenders being floated by various State Governments across the country. However, the supply of services still lags far behind the demand. The role of private sector becomes even more crucial to help mobilize resources and fast track implementation in the Faecal Sludge and Septage Management (FSSM) sector. Given that the sector is at a relatively nascent stage, it is critical for private players to be sensitized about the potential of FSSM and the opportunities therein.
Intellecap Advisory Services Private Limited (Intellecap), with the support of the Bill and Melinda Gates Foundation (BMGF), conducted a one-day workshop in New Delhi in December 2019, to showcase the market opportunity and understand concerns of existing and potential private sector players in FSSM in India. The workshop engaged over 60 different stakeholders, including private sector players, financial institutions, and other ecosystem stakeholders in the FSSM space in India.
The day began with a showcase of the FSSM opportunity in 5 key states in India. This was articulated by organizations such as Centre for Science & Environment (Uttar Pradesh), CEPT University (Maharashtra), Ernst & Young (Orissa), Indian Institute for Human Settlement (Tamil Nadu) and Administrative Staff College of India (Andhra Pradesh), which serve as technical support units for FSSM implementation to their respective State Governments. They shed light on state level project structures, key tender conditions, new opportunities in FSTP construction and operations along with existing government support available for private players in various states. Information on national level initiatives to streamline private sector participation in FSSM was also shared by representatives of the PMU and technical support team of WASH Institute and KPMG, which works with the Ministry of Housing and Urban Affairs (MoHUA) and supports the implementation of SBM – Urban and AMRUT initiatives.
This was followed by a detailed Q&A session which gave the private players an opportunity to highlight challenges being faced in the FSTP tender application process and the project structures as a whole, to the representatives of state level technical support units. Some of the key challenges that came to light were linked to potential revenue models, delayed payments from Governments and limiting tender conditions around technology usage and bidder profiles. All relevant concerns raised will now be taken up for further discussion and resolution at the respective state level.
Given that lack of access to finance has emerged as a key deterrent for private players working in the overall water and sanitation sector and in particular the FSSM space, a session on financing options available for interested enterprises was also organized.
Overall, this workshop was an attempt at catalyzing greater private sector participation in the FSSM space. It provided a platform to the private sector players to understand the market opportunity in construction and operations of FSTPs across various states in India as well as voice their concerns on the challenges that are currently serving as significant entry barriers for them. It was also a great networking opportunity for participants to interact with other players in the sector as well as relevant ecosystem stakeholders, thus potentially forming meaningful partnerships and alliances that would be beneficial for the sector in the future.
Going forward, Intellecap will continue to host similar workshops across different regions in the country, in an ongoing effort to support greater private sector participation in tackling India's growing human waste problem.