November, 24, 2021
Business Case for a Circular Textiles Economy – Blog by Siddharth Lulla, Circular Apparel Innovation Factory
Multi Sector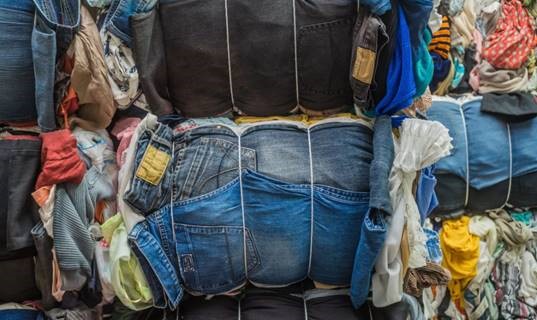 Mumbai,  24th November– The blog, Business Case for a Circular Textiles Economy by Siddharth Lulla, Manager, Circular Apparel Innovation Factory sheds light on the session hosted at the 4th CAIF Conclave
The potential of the circular economy continues to grow in the Textile & Apparel industry. Brands are increasingly looking to adopt circular business models however there are many real and perceived barriers associated with their adoption. One such barrier is the lack of clear evidence of financial viability. Importantly, a circular business model that looks great on the balance sheet but that does not have positive people and planet outcomes will ultimately fail to meet its full potential. Hence for the circular business models to be widely adopted and scaled across the industry i.e. by leading brands, suppliers and retailers, an understanding of what a "Business Case" means in the context of the circular economy is critical.
Our Session 'Business Case for a Circular Textiles Economy ' brought together a panel discussion comprising eminent leaders from the industry to deep dive and address several dimensions with the objective to –
Define a true "Business Case" in the context of a circular economy whereby creating Economic, Social and Environmental opportunities becomes a nor
Understand key challenges and areas of interventions required to accelerate this transition
The panelists for the discussion included Dr Rene Van Berkel, Gwen Cunningham, Freija Vermeer, Harsha Vardhan, Edwin Keh and was moderated by Gigi Mathews. Additionally, two very promising enterprises, KbCols Sciences & Promethean Energy were also showcased at the session.
Some key insights shared by each of the panelists during the panel discussion are captured below: 
Dr Rene Van Berkel, Representative – Regional Office India, UNIDO
All industries and not just Textile & Apparel need to act and adopt circular business models. It is imperative to align on a more inclusive definition of Circular Economy – one which moves from private benefits to shared benefits.
Circular Economy means different things to different people hence it is essential to understand its presence in manufacturing, consumption and recycling to develop required solutions.
Brands must encourage innovators and push harder for innovations. Circular solutions must be looked at as a mainstream activity and not something happening in the corner in order to create a level playing field.
Gwen Cunningham, Lead – Circle Textiles Programme, Circle Economy
The promise of new circular business models needs to be one, which increases the re-utilization of garments and displaces the need for new production apart from also delivering several environmental and social outcomes
Two areas, which are capturing a lot of interest, are – 1. Technologies to process post consumer waste and develop fibers that can be reused 2. Alternative business models, which allow brands to sell the same product a multiple times
It is imperative for suppliers and brands to redefine their relationship more as peers working together to develop solutions as per industry requirements. This will save a lot of resources and also help achieve the expected outcomes.
Public and philanthropic funding can play a big role in supporting early stage innovations. Entrepreneurs and innovators need to understand the value in non-commercial partnerships and look at alternative funding models, and not just brand engagement and conventional investments.
Freija Vermeer, Program Manager, DOEN Foundation
Key industry stakeholders should not underestimate the effects of innovation even if it's small. Even small changes in the manufacturing processes can go a long way in achieving their sustainability goal. This requires radical change in thinking.
There is a very large financing gap to support the early phase of innovations in the circular economy space. It is important for financial institutions and other funders such as banks and impact investors to be more patient with their capital.
A business case to achieve a circular textiles economy is about working on both sides i.e. corporates and innovators to help innovations scale up. Brands need to provide the time and space while innovators need to ensure that their models are scalable and attractive to investors.
Harsha Vardhan, Lead – Circularity Leap, H&M Group
Circularity is not a new concept but the way it has been understood is changing constantly. While the industry is struggling to put numbers for the business case of circularity it is crucial to understand that circularity is essential to achieve meaningful and sustainable growth.
H&M looks at circularity around 3 broad areas – Raw materials, Manufacturing processes, Customer Interaction. Circularity has a huge role to play in all 3 areas in order to achieve positive impact.
Driving circular models and innovations will require a 1. Mindset shift amongst key industry stakeholders 2. Access to technology, which can be utilized in the current context, and 3. Financial models which are scalable.
Today circular innovations are in a really good space because given the change in outlook as well as the regulatory environment brands are looking for game changing innovations. Innovators need to approach brands with their solutions.
Edwin Keh, CEO, HKRITA (Hong Kong Research Institute of Textiles & Apparel)
Today more progressive companies are not thinking of Circularity as a "doing good" activity but as a necessity to reinvent the wheel and achieve more ambitious goals such as carbon neutrality and biodiversity.
It is imperative for innovators and solution providers to choose partners wisely who have a long-term view and don't make business decisions purely based on accounting terms.
In order to scale, innovators must have the vocabulary to speak with potential investors. Innovators must make the effort to understand the problem they are trying to solve and clearly articulate the business case in terms of: growth, profitability and market share.
Brief profiles of the enterprises that showcased are shared below:
KBCols Sciences (Vaishali Kulkarni, Co-founder & CEO)
KBCols Sciences Pvt. Ltd. is a biotech enterprise working at the forefront of manufacturing Non-GMO natural biocolors extracted from the vast biodiversity of India. KBCols produces biocolors which are natural, sustainable, and reproducible in shade, paving a new era in fashion technology, personal care, food, feed & many more.
Promethean Energy Pvt. Ltd (Ashwin Krishna, Founder & Head-Energy Efficiency)
Promethean Energy builds unique waste heat recovery solutions for industrial and commercial applications. Give that over 50% of total input to any industrial or commercial unit is released as waste energy, the team at Promethean Energy is building cutting edge technologies to tap into sources of waste heat and recover them, thereby reducing the overall fuel usage and carbon footprint.