February, 16, 2022
Bridging the Digital Divide in the Agri Ecosystem
Agriculture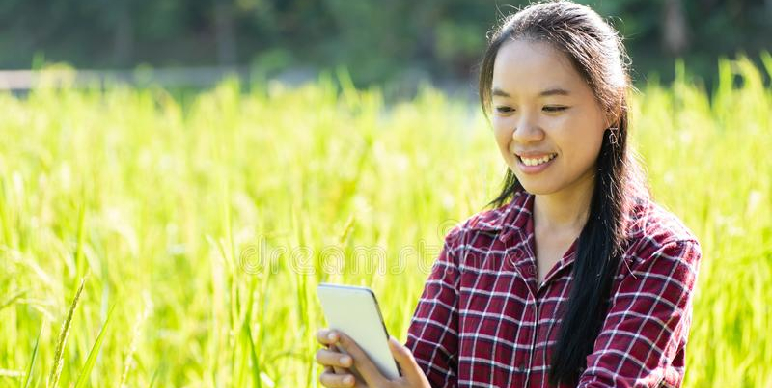 Mumbai,  24th  February – Join industry leaders across the world virtually on March 9-10, 2022 for the  ICTforAg 2022 conference where  Intellecap is exploring the current state and future trends in ICT and agriculture, and its intersections with climate change, digital inclusion, locally-led development and data sovereignty.
The conference is sponsored by USAID Feed the Future and the German Federal Ministry for Economic Cooperation and Development (BMZ) through  Deutsche Gesellschaft für Internationale Zusammenarbeit (GIZ)GmbH, and is being implemented by DAI and Intellecap.
In the run up to the ICTforAg2022 conference, Mayur Varandani, Manager, Intellecap and Tanvi Deshpande, Senior Associate, Intellecap contributed this article to Business World Disrupt on 'Bridging The Digital Divide In the Agri Ecosystem' that talks about how a growing number of agricultural technologies have proven that they can support the overall development of the agriculture sector, and there are multiple examples to support the same.
More than half the world's population is connected to the Internet today. Of this, over 90 percent use mobile phones to connect digitally. Over the last decade, the widespread availability of mobile phones and access to mobile Internet has been a game-changer in digital inclusion; in fact, you're probably reading this article on your phone right now! Digital technologies are increasingly being used across every sector of the economy, including health, finance, education, infrastructure, e-commerce, and retail.
The agriculture sector, too, has witnessed a rise in the adoption of digital technologies across various activities. Some of the use cases where technology is being successfully used in agriculture include drones and GPS mapping to provide customized advisories on the use of fertilizers and pesticides, as well as on water management; remote sensors to verify crop insurance claims; digital platforms to provide direct market linkages between farmers and consumers; and digital financial services that facilitate loans with low-interest rates and easy repayments to farmers. These solutions have the potential to address some of the most pressing issues faced by the sector, including low productivity and yields, climate-change-related vulnerabilities, lack of access to credit, and weak market linkages.
Despite these technological developments in the agriculture sector, the adoption of digital solutions continues to remain low amongst vulnerable and marginalized populations in low- and middle-income countries (LMICs). While these gaps remain, there is a growing consensus among industry experts on some of the challenges faced by smallholder farmers in adopting digital technologies.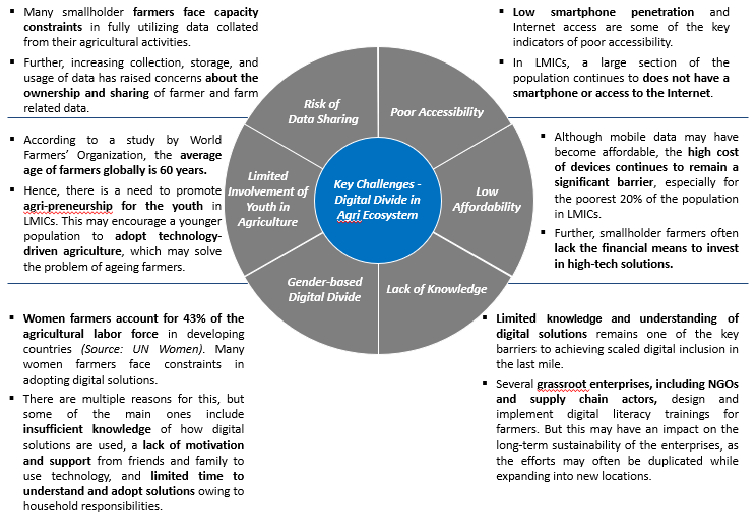 A growing number of agricultural technologies have proven that they can support the overall development of the agriculture sector, and there are multiple examples to support the same. However, for these technologies to achieve their full potential and inclusively benefit all agriculture sector actors, additional action from key stakeholders in the agriculture ecosystem may be required. Some illustrative examples are provided below, although these are by no means comprehensive.
Foundations and Donors
Scaling digital inclusion in underserved populations may require patient capital to be deployed through long-term programs. To incentivize private sector engagement, a "pay for success" funding model might be used, in which a promise is made to pay for improved social outcomes while digitizing the agri-ecosystem (example: Peru Climate-Smart Agriculture DIB).
Regulators and Policymakers
The agribusiness community is witnessing a surge in the number of social enterprises that provide various services to smallholder farmers. However, assisting rural populations to adopt digital solutions may require a nationwide digital inclusion initiative that may inspire confidence and create capabilities for smallholder farmers. A consistent emphasis may be required from the government, to build a foundational understanding of technology, its uses, and long-term adoption among farmers (example: National Gender Resource Centre in Agriculture (NGRCA) in India).
Corporates
The private sector, including multinational corporations and local enterprises, can help promote digitization and provide capacity development assistance to smallholder farmers and farmer associations through digital literacy initiatives. This may build a compelling case for farmers to choose and adopt digital solutions (examples: Cargill's 'Digital Saathi' –an AI based local online service platform and Arifu –mobile-based agronomic advice and financial skills training to farmers in Kenya).
Non-governmental Organizations (NGOs) and Other Ecosystem Players
Understanding how people interact with one another and knowledge about processes and procedures and networks within government departments may enable local institutions, including NGOs, mobile network operators (MNOs), social enterprises, and other ecosystem players to design programs that foster trust among smallholder farmers, thereby promoting the adoption of digital solutions (example: Digital Agricultural Innovations and Services Initiative (DAISI) and GSMA AgriTech Programme).
 While several such initiatives have made some headway in improving digital inclusion and access to technology among farming communities, there is a long way to go before this digital divide is truly bridged and ICT-enabled tools are widely accessible.
At the ICTforAg 2022 Conference, we will discuss different approaches and solutions that are helping to bridge the digital divide. Some interesting topics that we plan to cover under this theme include:
Connecting women to agriculture digital services: Pathways to scale
Breaking donor dependency in digital agriculture by unlocking viable and inclusive business models
ICT-based mobile farmer school to empower rural women and youth
Policy dialogue on investment opportunities in digital agriculture in the Sub-Saharan Africa
How giving female farmers access to open and climate-friendly agronomic content pays off
Digitally enabled training for unconnected farmers
To learn more, please write to us at contact@ictforag.com