February, 07, 2018
Acting today to prevent a future of food wars – Excerpts from 9th Sankalp Global Summit
Agriculture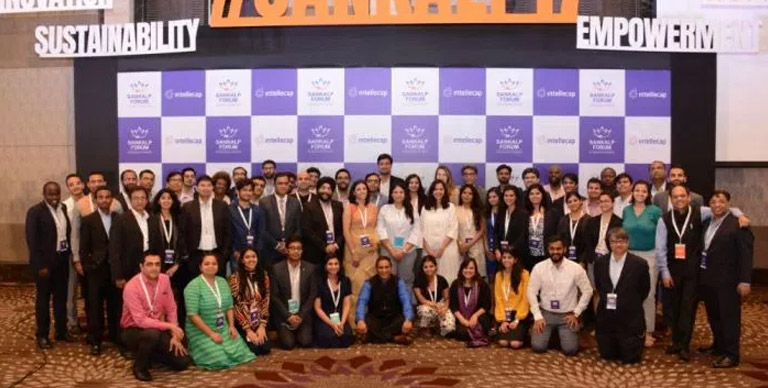 (Excerpts from the track on Future of Food at the 9th Sankalp Global Summit held in December 2017)
The 9th Sankalp Summit, held in India on December 7-8, explored how we can pivot from an era of scarcity to an era of abundance. The track on Future of Food brought together key stakeholders across the food value chain including farmers, research institutions, investors and industry to share their views on challenges and key enablers. The track explored how we can secure the incomes of farmers and lay the groundwork for a more stable food future.
Discussants suggested that there are three pillars to make farming more profitable: technology and science, macro-economic policies, and socio-economic behavior change. To increase production, big players need to implement economies of scale while keeping in mind the existence of small farmers. It is important that small farmers become suppliers to these big farmers. The entire system has to function like a cooperative and the government has to put regulations in place to protect the interests of small farmers. Technological innovation is important but it also has to go with socio-political innovation.
Everyone is fighting for a slice of the pie; we need to increase the size of the pie through innovations. Innovations like private sector technology to leapfrog agriculture, the data revolution, precision farming, and movements away from animal protein to plant protein show promise acknowledged Herman.
For example, an alternative to the current environment of land grabs to secure food interests would be supporting entrepreneurs in finding hi-tech solutions to grow food without land and/or increasing agriculture yields through new business models and use cases. However, despite several new ventures and entrepreneurs entering the ag-tech space in recent years and the world recognizing the challenges to produce more food sustainably, the overall sector is still investment starved. The agri-tech sector has seen ~$100million in investment versus $2.5-3billion in other sectors.
As Sankalp discussants shifted their conversations to focus on the future, food wars came up as a distinct possibility. The food production ecosystem currently faces problems related to demand and supply, system change aspects, eroding soils, climate change and scarcity of land and water. To secure food in this rapidly changing world, developed countries are moving aggressively to control food exports while grabbing land and water resources in the developing world. As inequality grows, that's where the recipe for a revolution stews.
More than 140 million acres of land have been grabbed in countries like Ethiopia and Sudan, putting food security at risk for local populations. Picture the reality of these food aid-reliant countries: a convoy of trucks leaves with grain farmed for the developed world, while another convoy brings in donated grains. Discussants were asked if the future will actually be colored by food wars or if that is dystopian a projection. In contemplating this question, all discussants emphasized that the prompt is not as rhetorical as it might seem.
We may not see armies marching into other countries, but we are seeing local conflict within national borders due to food scarcity. Arindom Datta, Asia Head, Sustainability Banking, Rabo India Securities Pvt. Limited said, 'There are two factors that pose huge risks from agricultural and socio-political perspectives. One is water and the other is carbon content in our (Indian) soils which is lowest in the world.
Session discussants observed that food distribution may be the real problem. Multiple famines across the world were not a food production problem but a food distribution problem. The great challenge will be distribution of food resources an access issue, an equity issue, explained Rajat Nag, a Professor at the Emerging Markets Institute at Beijing Normal University and a Distinguished Fellow at the National Council of Applied Economic Research.
To avoid future food wars, a country needs to protect its nation resources, provide better pricing policies for its domestic resources and water, and make sure that the treaties signed within a country and between two countries are equal.