23,Nov,2022
Welcome to the 14th Sankalp Global Summit 2022 Report!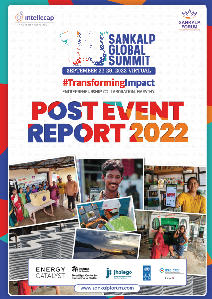 We at Sankalp are ever grateful to the 209 speakers, 5 program partners, and the 3036 participants who joined us from 118 countries across the world for the Sankalp Global Summit 2022 Summit on "Transforming Impact". We thank our partners Energy Catalyst, Habitat for Humanity's Terwilliger Center for Innovation in Shelter, Jhpiego, UNDP and IDRC. In addition to this we also had the support of several Friends of Sankalp who supported the outreach & amplification of the summit. We had a staggering 75 million+ reach across social media for the Global Summit!
 We also hosted our 3rd Private Equity Conference "Rendezvous" for growth stage enterprises at Sankalp. We retained our core purpose of convening to create an ecosystem of support for entrepreneurs around knowledge, capital & networks.  We hosted 41 knowledge sessions across core thematic areas including financial services, climate change, gender & livelihoods, WASH, agriculture, circular economies, impact investing, affordable housing & future of work; with cross cutting themes of women, capital & technology. In addition, we had over 20 booths that showcased innovations and partners in our exhibition area. Our endeavor was always to maintain a balance of gender, & diversity to our panels with a strong focus on bringing out the voice of the Global South.
 One of the key highlights of the summit in 2022 was the 6 moderators from mainstream & independent media who helped us navigate the conversations this year including CNBC-TV18, Zee Business, Fortune India, Forbes, IDR, & India Spend. Our Sankalp Awards remain the coveted 'Oscars' of the impact world with 293 entrepreneurs applying this year. To narrow down to the best of the best, we hosted two investor screening committees, & a prestigious Grand Jury to select 6 global award winners.  We also continued the ecosystem award and had 2381 voters help us choose our second awardee! Many of our Award winners & semi-finalists have gone on to raise significant funding to help scale their businesses from their engagements at Sankalp. Overall, we facilitated 103 one-on-one meetings at the Summit. We recognize that virtual meetings may not be ideal, but the ability to be inclusive, cost effective, and the scale it affords is of tremendous value to entrepreneurs as well as investors.
In this report you will find highlights of the summit, as well as some key initiatives, and numbers related to the summit. The real value of a virtual convening is that every session is recorded and the tremendous knowledge repository remains as a digital asset for anyone to access on our YouTube page.
We remain committed to building an ecosystem of support for the Global South and welcome you all to this journey along with us.