28,Jul,2021
Waste-to-Value Startup Ecosystem: Opportunities for the Circular Approaches in East Africa : An Intellecap Publication, Supported by Bestseller Foundation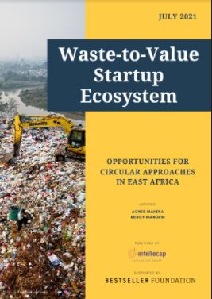 Sub-Saharan Africa generated an estimated 174 million tonnes of waste in 2016, at a rate of 0.46 kg per capita per day, and is projected to be the world's fastest-growing waste-generating region by 2050. The continent finds itself struggling to achieve adequate waste management and disposal practices to keep up with the growing population and production. Waste management is, therefore, a key to the socioeconomic and environmental challenges affecting most countries on the continent. Traditional recycling and disposal methods have proven to be inefficient, leading to calls for a stronger focus on circularity and resource efficiency. There is therefore much to be done through private and public sector collaboration along the waste management value chain to ensure that countries meet their waste management targets and create sustainable solutions. Various innovative startups have established themselves in the sector to address some of the major waste management challenges, resulting in an increasingly vibrant ecosystem compared to ten years prior.
It is on this backdrop that The BESTSELLER Foundation launched the first ever waste-to-value accelerator in East Africa that was being implemented and managed by Intellecap. The objective of the accelerator was to support and scale early-stage businesses tackling waste management and recycling in the region. The accelerator sort to build a pipeline of startups in the sector (through designing a challenge program), provide tailored business development and investment readiness support to selected enterprises as well as build strong networks for the startups including advisory boards, mentors and investors to enable the startups to thrive and scale.
Through these efforts, Intellecap developed a pipeline of 249 early-stage companies that operate within the sector, both from the waste-to-value accelerator and through support from the Sankalp awards program. These companies were analyzed in order to understand their business models, they type of circularity innovation model adopted, the geographies in which they operate, their stage of operations, their sources of capital among others. Similarly, Intellecap assessed the gap and challenges that these startups face in the region and some of the opportunities that can be leveraged to scale these startups. Further, Intellecap analyzed the level of tailored support that is given to these companies including the available incubation and acceleration programs that have been launched in the region, funding sources that can be leveraged by such companies and the availability of both national and regional advisory bodies that aggregate and support startups in the sector.
This white paper therefore presents an overview of the waste sector in East Africa with a focus on waste-to-value startups. The findings highlights gaps, opportunities, and potential solutions that could accelerate the growth of the ecosystem.