18,Nov,2020
The Landscape for Social Investments in East Africa : Intellecap Africa and AVPA Report 2020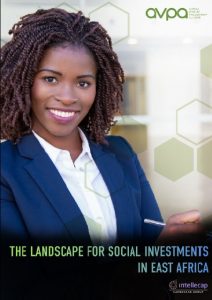 The Landscape for Social Investments in Africa, maps the diverse field of social investment across East, West and Southern Africa. In each of these regions, hundreds of institutions are deploying capital to achieve ambitious social and environmental goals.
Social investors include foundations, corporates, family offices, high net worth individuals, sustainability-aligned fund managers, development finance institutions, bilateral and multilateral donors, governments, diaspora, and faith-based organisations.
This report maps the landscape of social investments in East Africa with a deep dive focus on Kenya, Uganda and Tanzania, and a high-level assessment of Rwanda, Ethiopia and South Sudan. This report maps these providers of social capital, their investment strategies, and opportunities for collaboration amongst the various investors. Much more innovation and collaboration amongst social investors is needed if African countries are to close the enormous Sustainable Development Goals (SDG) financing gap.