06,Jan,2023
Intellecap Lighthouse 4.0 (2022)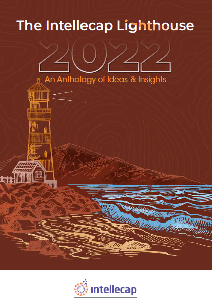 Since 2002, Intellecap has constantly strived to shape outcomes in emerging and underserved markets by developing key insights and new ideas. As a result, the organization has undertaken bold initiatives across its various practices to push the envelope, seeking to build collaboration and thought leadership as part of the social impact discourse. This year marks the 4th edition of the Lighthouse, and there's been a concerted effort to bring more diverse, yet unique perspectives to the sectors Intellecap covers, and unearth fresh ideas that complement our work in nurturing ecosystems to deliver change.
The goal of this endeavour has always been to highlight and share the most relevant thought pieces with our external stakeholders, in order to bring forth sustainable solutions towards achieving the SDG's, as set forth by the United Nations. Our aim to cover a diverse set of perspectives continues, as some of this year's published pieces include bridging the digital divide in the agri ecosystem, creating a circular solar ecosystem, the need for a multi level approach in fighting diseases, tools to improve gender lens investing practices, closing the loop on plastic waste in India textile industry, among others.
As the world recovers from the aftermath of the pandemic, there are questions abound for the future that lies ahead, and we believe the perspectives shared in this year's edition contribute towards alleviating those concerns and providing resilient mechanisms to tackle them. It is our sincere hope that the Lighthouse offers you more than a glimpse into some of the most compelling geographies and sectors Intellecap serves as part of its key constituents, and aspires to continue serving in the years to come.
To connect with us about our work, and to know more about our various initiatives, please write to us at connect@intellecap.net.