22,Apr,2019
Sankalp Global Summit 2018 | Post Event Report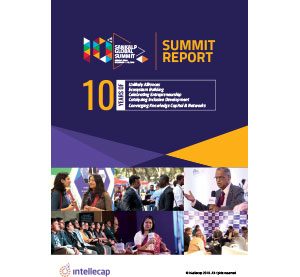 In 2018, Sankalp celebrated 10 years of building entrepreneurial ecosystems across the world for business led inclusive development. 2018 was a year to celebrate and showcase entrepreneurs that have proven the long-standing narrative that businesses can have a demonstrated impact on some of the key challenges that the world faces and remain profitable and sustainable. The agenda for the two days of the Summit were curated around the needs of entrepreneurs; building on the Aavishkaar-Intellecap's group mission to foster an ecosystem of knowledge, capital & networks to help scale enterprises.
We deep dived in to five thematic knowledge areas of financial inclusion, clean energy & climate change, agriculture, WASH & gender. Some of the unique aspects of this year's summit were the diverse participation – in particular from mainstream private sector and financial inclusion in the region. Mainstreaming the development agenda to be more inclusive has been a priority across our work and it has been demonstrated through the speakers, participants and the outcomes of the summit.
Reflecting on the last ten years, progress in this space and impact can be seen by the growth of enterprises. Our opening plenary showcased four such dynamic enterprises that have become multi million dollar companies, impacting millions of people in underserved areas. The Summit Outcome report highlights key insights from the 40+ discussions, conversations with our participants, and the summit's outcomes. We can achieve the Sustainable Development Goals by 2030 through business and we hope you will continue with us on Sankalp's journey of building a thriving ecosystem to support this.