11,Sep,2020
Sankalp Africa Summit 2020- Report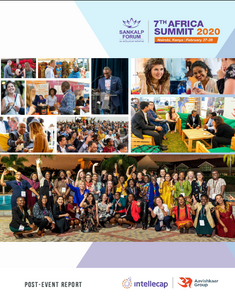 The report of the Sankalp Africa Summit 2020 is all about our  February 2020 summit where we convened 1268 delegates from nearly 40 countries to discuss, deliberate, and collaborate on the role of entrepreneurship in achieving the Sustainable Development Goals.
Convened in Nairobi, Kenya, the Sankalp Africa Summit 2020 celebrated some of the most promising enterprises from across the continent.
Over the two days of the Sankalp Africa Summit 2020, we hosted 50+ sessions which included main plenaries, impact lounges, panel discussions, debates, design hacks, interactive workshops, masterclasses, deal rooms, member meetings, film screenings, and a dance workshop followed by an exclusive dinner for women leaders. Sankalp and its partners curated sessions around sectors such as Agriculture, Livelihoods, Healthcare, Financial Inclusion, Clean Energy and Smart Climate, the Circular Economy, Water and Sanitation, and Frontier Economies, as well as a focus on crosscutting themes such as Technology for Good, Talent, and Gender.
Aligned to the Summit's theme, 'Collaborate 2030: Scaling Entrepreneurship for the Global Goals,' the main plenary session sought to take on a holistic self-audit view on whether the Sustainable Development Goals really were achievable in the next 10 years and could create meaningful impact for those living at the bottom of the pyramid, or if they were merely symbolic to further international political agendas. The discussion was also around what more we all need to do to increase the world's chances of realizing the SDGs in just the next 10 years.
This year at Sankalp Africa, we explored some new engagement opportunities, including not only a deal room for investors to connect with other investors, but a new deal room for entrepreneurs themselves to identify potential business partners and leads. We screened three films at Sankalp this year, highlighting film as a tool for social change. We endeavored to reduce our own carbon footprint by using upcycled lanyards, replacing all single-used water bottles with re-usable aluminum bottles and water stations, and ensuring that the event's waste was disposed of responsibly.
With over 1,200 delegates attending the 2020 Africa Summit, Sankalp continues to celebrate the growth of the entrepreneurial ecosystem across diverse stakeholders who are working to resolve some world's most pressing challenges. As we are all experiencing the Covid-19 pandemic, we are going into uncharted territory together. If nothing else, recent events have demonstrated the critical importance of community support, alliances for impact, and ecosystem building. We are committed to our role in convening the entrepreneurship community for the Global South and will continue to do so – across global, regional, and local convenings, both digitally and inperson