22,Apr,2019
Sankalp Africa Summit 2019 | Post Event Report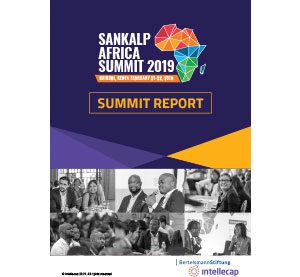 The entrepreneurial ecosystem in East Africa is young, and incredibly active. Yet, it is fraught with challenges that entrepreneurs face on a daily basis as they launch their businesses. The landscape in East Africa validates the 'ecosystem approach' that Intellecap takes – bringing together Capital, Knowledge and Networks. These three factors are inextricably linked and critical for the success of any entrepreneur – seasoned or young.
Sankalp Forum is a multi-stakeholder platform focused on growing the entrepreneurship economy in emerging markets by channeling support to entrepreneurs and innovators. The Sankalp team has successfully organized 6 regional summits in Africa with 1100+ delegates attending the latest edition including government leaders, corporations, investors, entrepreneurs and innovators. Launched in 2014, the annual Sankalp Africa Summit intends to support the regional SME ecosystem and build a transfer corridor with other emerging markets in the Global South. Entrepreneurs remain at the core of Sankalp Forum, and each year through the Sankalp Awards, we source, screen, and support high potential enterprises in their capital raise.
As the entrepreneurship agenda gains popularity from an ever-increasing base of stakeholders, and the space gets more crowded, these stakeholders and the entrepreneurs they support begin to rub shoulders and step on each others' toes without even knowing it. Many stakeholders have commonalities and overlap in their entrepreneurship agendas, but may never realize it. How effectively are such programs delivering value to entrepreneurs, customers, and beneficiaries? How much redundancy could be alleviated if these stakeholders worked together instead of in parallel? What efficiencies could be improved by aligning agendas across different stakeholders? What insights could be gained from seasoned veterans in the space, like impact investors, accelerator programs, and entrepreneurs themselves?
As we continue to work towards achieving the Sustainable Development Goals, it is more important than ever that we work in tandem instead of independently to amplify each individual's contributions. The 2019 Sankalp Africa Summit brought together all these different types of stakeholders with the objective of building an enabling ecosystem for entrepreneurship. Our upcoming Summits look forward to helping align stakeholders and provide a platform where unlikely alliances can take hold, and their collective impact can be amplified.