14,Apr,2022
Sankalp Africa Post Event Report 2022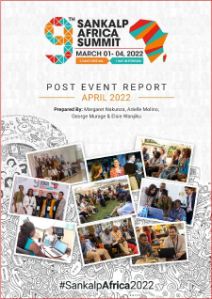 This year's Sankalp Africa Summit 2022 was an event like no other.
This was Sankalp's first ever hybrid event in our 13 year history. When designing the event, we set out to drive as much engagement and value to the Sankalp community as possible. Given the uniqueness of our community, we couldn't simply stream in-person content to a live audience. We therefore innovated on how we wanted to structure our hybrid event, and we decided to create separate programming for virtual attendees and for in-person attendees, so that everyone, no matter how they were able to join, was able to have an amazing Sankalp experience.
We hosted three days of virtual convening with more than 35 digital sessions, and one day of in-person convening. During our in-person event day, we experimented with an unconference style agenda where 85% of the content was contributed and delivered by our attendees themselves in informal 'Discussion Zones.' These zones had no stages, microphones, or screens – just good ol' fashion face to face sharing of ideas, challenges, and inspirations for building our entrepreneurial ecosystem. Delivering this two-in-one programming structure was one of the most challenging for the Sankalp team, but it was by far the most satisfying event I've personally ever been a part of.
For many of us, the Sankalp Africa Summit 2020 was the last big in-person event any of us participated in, before we receded to our homes and computers for two years of Covid quarantine. I could not be more honored that the 2022 Africa Summit was yet again the trend setter, and one of the first big events hosted for the region and the industry. Though we were able to safely convene only about 300 people in-person, the smiles, the conversations, the coffee lines, and the meetings under the sausage tree were a welcome change from Zoom meetings in yoga pants.
The pandemic put our regional expansion plan on hold for the last two years, but that is back on our radar now. Stay tuned as Sankalp expands to West Africa later this year. Thank you to all of you, who once again put your faith in Sankalp that we could convene safely and continue to help provide critical linkages for the ecosystem during these tumultuous times. It is our privilege to support and build this incredible community year on year. Until we see you again, stay safe and stay healthy!
Warmly,
Arielle Molino, Sankalp Africa Lead, Intellecap