08,Mar,2022
Opportunities and Constraints of Women Owned Very Small Enterprises in India by International Finance Corporation (IFC) and Intellecap,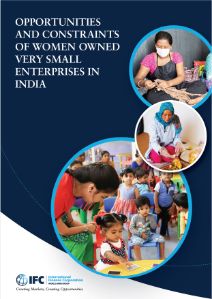 This report presents a post COVID, cluster-based landscape of Women's Very Small Enterprises (WVSEs) in India and quantifies the untapped credit opportunity. It builds the case for financial institutions to design targeted products for this segment and provides recommendations on how these can be deployed.
Women-owned very small businesses (WVSEs) in India, with an estimated credit demand worth INR 836 billion ($11.4 billion), need the strong support of financial institutions (FIs), as per this latest report from the International Finance Corporation (IFC), 'Opportunities and Challenges of Women-Owned Very Small Enterprises in India', enabled by Intellecap. This support will facilitate their growth and drive socio-economic inclusion by eliminating existing challenges.
Launched on the occasion of International Women's Day 2022, the report says WVSEs face numerous challenges, including inadequate access to capital, technology and information, and infrastructure gaps. There are about 15 million women-owned MSMEs in India, and contrary to popular perception, over 70 percent of them are manufacturing enterprises, many of them home-based.
In addition to challenges mentioned, the segment of women entrepreneurs who often overcome biases from within the family and the business community, witness fractional treatment when it comes to lending. The report says FIs have traditionally catered to men-owned enterprises. The approach then limits the understanding of the operating contexts of women-owned businesses and their socio-cultural constraints. Given that most women entrepreneurs are self-financed, the lockdowns imposed during the COVID-19 pandemic have impacted their business and reduced their income.
This report identifies sectors that WVSEs operate in and highlights the characteristics of these enterprises. It also provides a granular perspective of WVSE business operations in each of the sectors including the nature of businesses they engage with and the intermediaries who provide support to them. On this basis, the report suggests ways for FIs to design new products and new processes to address the needs of WVSEs.
Authors:
Poorna Bhattacharjee/IFC, Srijan Kaushik/IFC, Anil Birla/IFC, Natalia Kaur Bhatia/IFC, Vikas Bali/Intellecap, Mukund Prasad/Intellecap, Amar Gokhale/Intellecap, Abhishek Gupta/Intellecap , Neha Kumar/Intellecap