01,Jun,2009
Inverting the Pyramid: Indian Microfinance Coming of Age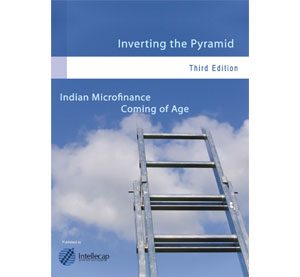 The Inverting the Pyramid series was launched by Intellecap in 2007 as an attempt to capture the growth of the microfinance industry in India on an annual basis and track the efforts made, success achieved and challenges that remain. every year, it maps the microfinance landscape in India, identifies key highlights of the year, explores strides made in addressing the huge demand-supply gap that exists and analyzes the performance of MFIs. Further, it identifies key drivers for future growth and sustainability of this industry, its capital needs and its risks and priorities in the short to medium term.
The 2007 edition titled The Changing Face of Indian Microfinance captured Indian microfinance as a dynamic industry on the move. In 2008, Indian Microfinance: Scaling Against the Odds captured a resilient industry maintaining scale and asset quality amidst a turbulent financing landscape.
The 2009 report, Indian Microfinance: Coming of Age finds India at the centre of global attention, the most closely watched microfinance market in the world. While its large unbanked population is a significant contributor to this attention, its fast growth, high investor interest, planned IPos and continued strong operational and financial performance have also piqued the interest of investors, thought leaders, media and the public alike.