08,Jun,2021
Intellecap Lighthouse 3.0 – An Anthology of Thoughts & Insights (2021)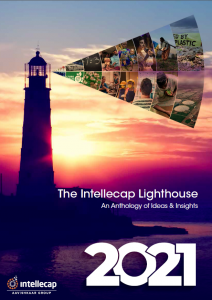 Since 2002, Intellecap has constantly strived to shape outcomes in emerging and underserved markets by developing key insights and new ideas. As a result, the organization has undertaken bold initiatives across its various practices to push the envelope, seeking to build collaboration and thought leadership as part of the social impact discourse.
This year marks the 3rd edition of the Lighthouse, and there's been a concerted effort to bring more diverse, yet unique perspectives to the sectors Intellecap covers, and this year, we've gone a step ahead to also feature our most prominent multi-sectoral Case Studies from the year. The goal of this endeavour has always been to highlight and share the most relevant thought pieces with our external stakeholders, in order to drive across sustainable solutions that bring the collective a step closer towards achieving the SDG's, as set forth by the United Nations.
Some of this year's published pieces cover a diverse spectrum, including the role of angel investing during Covid, a discussion on the contentious Farm Laws in India, private sector's participation in achieving sanitation solutions, the journey of textile waste, and impact becoming a part of mainstream discourse, among others. This compilation of knowledge pieces has contributions featured in some of the most prestigious media publications, and bears testament to their importance and contemporary nature in these present times.
While large parts of the World continue to grapple with the effects of the Covid pandemic, this period has offered all of humanity a unique opportunity to deeply reflect and reboot itself in the most prudent and innovative manner, and emerge much stronger on the other side of this global epidemic. It is our sincere hope that the Lighthouse offers you more than a glimpse into some of the most compelling geographies and sectors Intellecap serves as part of its key constituents, and aspires to continue serving in the years to come.