12,May,2022
GIIF Publication 2022 – Sankalp Africa Summit's engagement with IFC's Global Index Insurance Facility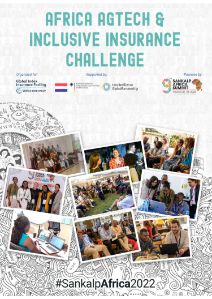 On the sidelines of Sankalp Africa Summit 2022 , we engaged with IFC's Global Index Insurance Facility (GIIF) as a Strategic Partner, in order to build the profile for Index Insurance on the African continent, and explore innovative structures for building the resilience of smallholder farmers, thereby supporting the ecosystem for insurance providers to thrive.
Given the size, scope, and scale of the Sankalp Forum in Africa, GIIF decided to plug into the Sankalp Africa Summit 2022 to leverage the existing network of stakeholders, such that they may be able to amplify the importance of insurance, and build support for the insurance ecosystem in the region.
GIIF's engagement at Sankalp had two major components, which were:
The Africa AgTech & Inclusive Insurance Challenge, where the Sankalp team identified promising enterprises in the AgTech and insurance space, supported them with investment readiness support and provided strategic exposure to investors from the Sankalp community.
Strategic engagement at the Sankalp Africa Summit to leverage its knowledge-sharing platform to disseminate and share critical information on the agriculture and insurance sectors.
This report captures the highlights of GIIF's engagement with the Sankalp Africa Summit 2022.