26,Oct,2018
Beyond CSR To The Sanitation Economy Transformational Business & Investment Opportunities In India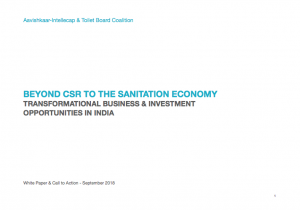 The sustainable management of water and sanitation underpins wider efforts to end poverty and advance sustainable development. But, the world is not on track to reach Sustainable Development Goal 6 (SDG 6) on Water and Sanitation by the deadline set for 2030, says a new UN report (UN Water, 2018). The World Bank estimates that $1.14
trillion USD per year in overall global investment is needed to meet SDG targets 6.1 and 6.2, which represents a trillion dollar financing gap, and calls for a new financing paradigm that includes mobilising additional and innovative forms of domestic and international finance—a largely untapped financial resource to the sector (World Bank & UNICEF, 2017). Locally, it is estimated that India loses more than $106 billion USD per year of its GDP (> 5% of total) due to inadequate sanitation. It is widely believed that the private sector can and should fund a significant percentage of the investment gap. The private sector should not only be considered a funder but also an implementer of more efficient solutions. Companies are structured to maximiSe efficiency in order to remain profitable. As such, for companies to step into this implementation role, we must create the right enablers. This means focusing on at scale or scalable projects, establishing streamlined go-to-market models, and
creating favourable economics that attract commercial investment.
It is becoming inevitable that for sanitation systems to be sustainable and resilient for future generations, infrastructure needs to be cost recovering and services delivered in partnership with the private sector and commercial investors. The transition to the Sanitation Economy presents a transformational opportunity to
ensure a sustainable future for sanitation systems that can provide alternatives to the cost burdened systems of today, towards cost recovery and full of life-improving innovations, business and commercial investment opportunities – that could turn the outlook for SDG 6 around and ensure the resilience of India's progress on sanitation access via the Swachh Bharat Mission. The transformation lies in the transition to significant opportunity for private sector innovation, new technologies, new sources of water, energy nutrients, and information
about human health and behaviour that will attract commercial investment and contribute to sustainable economic growth. In this model, the public sector benefits from private sector expertise, and the private sector sustainably engages in the development agenda through relevant, appropriate commercial constructs.
There is mounting evidence that leading businesses are championing new and exciting areas for business opportunity with a vision for a multi-billion dollar Sanitation Economy. To un-lock the these opportunities companies and investors need to take bold action for sanitation solutions that go beyond Corporate Social
Responsibility. We are calling on Indian businesses, entrepreneurs and investors to build the Sanitation Economy in India. Promoting high impact enterprises and achieving good returns on investments made will require sustainable on-the-ground partnerships with multiple stakeholders.
With this white paper we seek to take stock of the current state of corporate engagement in sanitation solutions, and build the case for businesses to move beyond CSR to un-lock core business opportunities that lie within sanitation systems and have been virtually untapped. Doing so will build an exciting universe of new investment
opportunities. India has the opportunity to lead the way, to address this market failure, and showcase the potential of the Sanitation Economy.