31,Jul,2020
A SURVEY REPORT: IMPACT OF COVID-19 ON SANITATION ENTERPRISES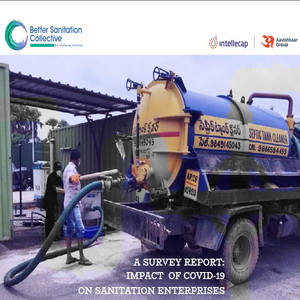 Over the last few months, the spread of COVID-19 pandemic has led countries across the globe to witness an unprecedented impact on healthcare systems in particular and economies as a whole. This modern age pandemic has caused a major economic slowdown with a loss of around $8.8 trillion, which is around 9.7% of the global GDP. Studies across the globe suggest that the impact of this pandemic has been felt across industries with the small and medium enterprises (SMEs) being the worst hit.
The story is no different in India, where the increasing numbers of COVID-19 cases have caused severe health and economic crisis. As most economic activities remained halted during lockdown, a lot of businesses in the MSME category faced the risk of extinction due to decreased demand for non-essential commodities, labour shortage, credit deficit and almost no working capital. Since the SMEs contribute to 29% of the GDP, and employ more than 11 crore people, it is imperative to study, and understand how they have been impacted and design measures to support them.
At Better Sanitation Collective – an initiative by Intellecap, we recognize the role of sanitation enterprises in the current scenario and the challenges they may have faced in being operational during the pandemic. Hence, to better understand the impact of COVID-19 pandemic on them and the ecosystem in which they function, we conducted a survey, and reached out to 200 enterprises. The survey primarily focused on capturing the impact of the pandemic on their business operations, their response to these challenges and additional support needed to tide over the ongoing crisis.