24,Apr,2023
The Role Of Sustainable Investing In Contributing Towards A Greener Future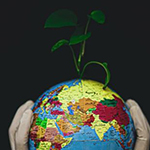 Mumbai, 24th April– Shruti Deora, Partner, Intellecap's article on 'The Role Of Sustainable Investing In Contributing Towards A Greener Future' was featured by Entrepreneur India.
On the occasion of Earth Day, Entrepreneur India examined how incorporating gender lens investing and climate finance into sustainable investing practices can boost growth, profitability, and foster a greener, more gender-inclusive, and climate-resilient future.
Sustainable investing is gaining momentum as investors recognize its potential for financial returns and positive social and environmental impacts. This Earth Day, we'll examine how incorporating gender lens investing and climate finance into sustainable investing practices can boost growth, profitability, and foster a greener, more gender-inclusive, and climate-resilient future.
Sustainable investing, also known as responsible or values-based investing, involves considering environmental, social, and governance (ESG) factors in investment decisions rather than relying purely on financial considerations. The business case for sustainable investing is well established. Recent research from Bain & Company and Eco Vadis also shows that sustainability initiatives correlate with financial performance, sustainable supply chains, renewable energy usage, employee satisfaction, and diversity, equity, and inclusion (DEI).
Despite challenging market conditions in 2022, sustainable investment funds experienced net positive fund flows of $115 billion, according to the Morgan Stanley Institute for Investing's Sustainable Reality report. CareEdge Research shows that ESG reporting by Indian corporates has jumped by 160% basis reports from top 1,000 listed entities over the past three fiscal years with 18% companies voluntarily disclosed the BRSR data in FY22.
Gender lens investing is an important subset of sustainable investing that promotes gender equity and inclusion. Studies indicate that empowering women could significantly lower global carbon dioxide emissions by 2050. Companies with over 30% female board representation have reported lower carbon emission growth rates, reduced energy consumption intensity, decreased greenhouse gas emissions, and less water usage.
Climate finance plays a crucial role in promoting a greener and more climate-resilient future. The International Energy Agency asserts that annual clean energy investments must increase from $1.3 trillion in 2021 to above $4 trillion by 2030 to reach net-zero emissions by 2050. Climate finance can help mobilize the capital needed to support the transition to a low-carbon economy and enhance climate resilience. Climate Investment Funds have raised over $11.1 billion in climate finance and supported more than 390 projects in developing countries. Companies like Tesla and Beyond Meat have seen significant growth and profitability by prioritizing sustainability and ESG factors. Climate finance in India totalled a whopping ~USD 44 billion per annum for 2020, but reports estimate that for India to achieve its Nationally Determined Contribution (NDCs) under the Paris Agreement, we require USD 2.5 trillion per year up to 2030.
Agence Française de Développement (AFD), the Small Industries Development Bank of India (SIDBI), and the Shakti Sustainable Energy Foundation have recently launched GroW – Greening of Finance by Women as part of the Green Indian Financial System (GIFS) Initiative, aimed at advancing and leveraging women's participation, leadership, and knowledge in green and climate finance, with the vision to create a gender-equitable green and climate finance sector and address these gaps.
Sustainable investing presents multiple new opportunities for entrepreneurs to contribute to a greener future. By prioritizing sustainability and ESG factors in their business practices, entrepreneurs can reduce their environmental impact and drive positive social and environmental outcomes. For instance, entrepreneurs can adopt renewable energy sources, minimize waste generation, and focus on sustainability in their supply chain by selecting environmentally friendly materials and reducing carbon emissions. These practices can improve overall sustainability performance, reduce reputational risks, and attract sustainable-minded customers and investors.
The increasing demand for sustainable products and services offers new business opportunities for entrepreneurs. By creating innovative solutions that address social and environmental challenges, entrepreneurs can tap into new markets and drive innovation. Examples include developing energy-efficient technologies, sustainable agriculture practices, clean transportation, sustainable fashion and beauty products, sustainable food products, and eco-friendly building materials. These innovations can cater to the growing demand for sustainable consumer goods and contribute to a greener future.
While there are concerns about "green-washing", regulatory standards are being established globally to address and streamline the measurement and reporting aspects of sustainability initiatives. Sustainable investing is growing exponentially and is expected to become the new normal within a decade. By integrating gender lens investing and climate finance into sustainable investing practices, investors and entrepreneurs can drive positive change while generating financial returns. Millennials are more conscious of the environmental and social impact of their investments and purchasing decisions. This awareness has led to a growing preference for companies that prioritize sustainability and ESG factors. The quote from Sir Christopher Hohn, founder of TCI Fund Management, captures this sentiment: "Investing in a company that doesn't disclose its pollution is like investing in a company that doesn't disclose its balance sheet." As more investors and consumers demand transparency and accountability, companies that embrace sustainable practices are better positioned to attract capital, talent, and customers. This shift in consumer behaviour will drive businesses to adopt sustainable practices, resulting in a greener, more gender-inclusive and climate-resilient future.
View full article