Leading Tanzanian Women in Financial Services – An examination of gender equality in Tanzania's financial services sector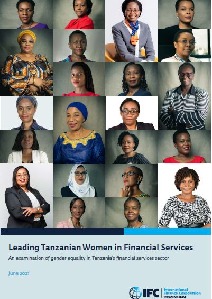 In 2019, IFC launched the Finance2Equal Tanzania initiative to examine the roles men and women play in the financial services sector and identify ways to reduce gender gaps and enhance women's access to opportunities in the sector. Through Finance2Equal Tanzania, IFC has established a partnership with five Tanzanian financial services companies to reduce gender gaps in their operations.
This report, as part of Finance2Equal Tanzania, gathered data and assessed employees' perceptions of practices that enable and/or limit gender diversity in the workforce. The quantitative analysis was complemented by a qualitative analysis of 22 women leaders in Tanzania's financial services sector. Through their personal stories, these women provide insights about the challenges they encountered, the strategies they used to overcome these, and the actions they have taken to help the next generation of women to rise.