Circular Changemakers – India's First Investment Readiness Program for Circular & Sustainable Fashion Startups
Presenting Partners
Circular Changemakers is an initiative by Intellecap's Circular Apparel Innovation Factory (CAIF) and Circular Design Challenge (CDC), India's largest sustainable fashion award launched by Lakmé Fashion Week, R | ElanTM "Fashion For Earth" & United Nations Environment Programme (UNEP).
Background
A range of enterprises with a potential to deliver innovative solutions to address the critical industry challenges and expedite the industry's transition to circularity are emerging across the textile and apparel value chain in India. Theses enterprises are working on developing innovative product, process and service offerings or combinations thereof at critical points in the value chain as shown in the exhibit below. Through extensive adoption and at scale, many of these solutions can potentially disrupt existing linear approaches to manufacturing, retail and consumption.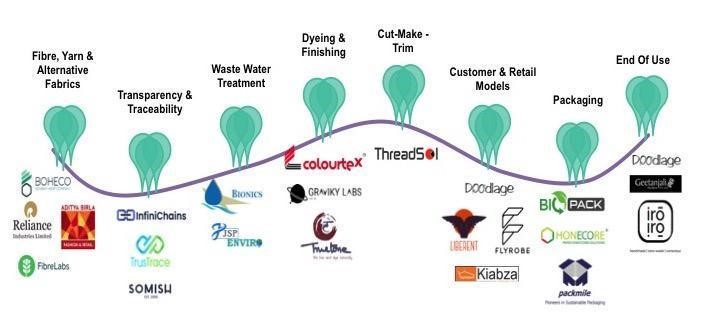 However, dearth of access to finance and capacity building support currently limits such enterprises to push for greater adoption and scale. Therefore, despite harboring significant promise to drive change, most of such enterprises continue to operate at small scale.
 The appetite for exploring circular innovations among Indian corporates and brands is gradually rising. However, enterprises developing and delivering such solutions lack the necessary technical capacity in the form of knowledge and network linkages to potential buyers, strategic investors, critical for mobilizing testing, adoption and scaling of their solutions.
Objective
The objective of the Circular Changemakers program is to:
• Provide capacity building support to enterprises with circular solutions on aspects such as capital raising process, business & financial modeling and investor pitch training
• Facilitate visibility & access to networking avenues for enterprises with investors, potential partners, manufacturers, brands, and other key stakeholders from the industry
• Provide enterprises with a platform to present their businesses at India's first ever investor pitch for circular fashion, at Lakmé Fashion Week's sustainability day, to a panel of eminent investors and industry experts
Approach
Applications for the Circular Changemakers program were invited through an indepth marketing and social media outreach initiative led by IMG Reliance on the Lakmé Fashion Week platform supported by CAIF. CAIF also reached out to stakeholders in their network & ecosystem, which includes circular enterprises, academia, incubators, accelerators etc.
This season, the program received over 45 applications from innovators across fibre / yarn, alternative materials, packaging, rental & reuse business models, traceability & supply chain solutions, waste water treatment and circular inclusive businesses across the country.
A cohort of 6 enterprises was selected based on an evaluation framework created by CAIF with support from Aavishkaar Capital. The enterprises had to go through a rigorous online enterprise bootcamp created by CAIF with a curated set of industry experts to fine tune their business models, financial models and presentations. The mentors for the bootcamp included Ms. Divya Gupta, Associate Director, Aavishkaar Capital ; Siddharth Bharadwaj, Portfolio & Innovation, Social Alpha ; Ateet Sanghavi, Partner, Purple Ventures ; Sriram Sabhapathy, Founder, Last Bench ; Somatish Banerji, Associate Vice President, Intellecap followed by a series of 1:1 investor pitch training sessions with the CAIF team.
On 22nd October, Day 2 of Sustainable Fashion Day of Lakme Fashion Week the cohort of Circular Changemkaers pitched to an emminent investor & strategic partner panel comprising of Ms Disha Gandhi, Associate Director, Aavishkaar Capital, Ms. Marieke Lenders, Head – Reweave Program, Enviu, Mr. Vineet Gautam, CEO, Bestseller India and Ms. Pinar Ademoglu, Investment Director, Sagana Capital.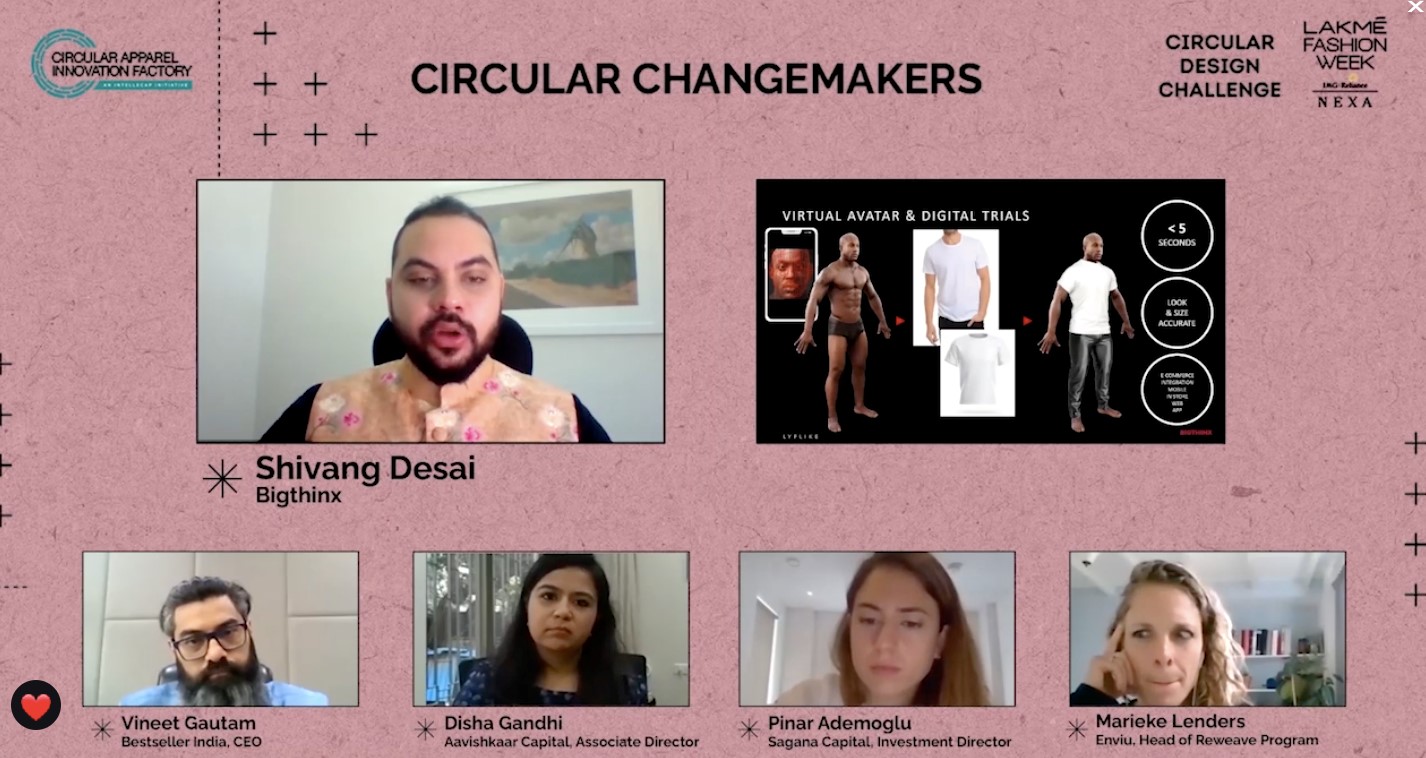 Outcome
The Circular Changemakers program was successful in creating a cohort of enterprises which work at different segments of the value chain in an effort of making fashion truly circular. Areas of value chain where these enterpirses operate in include Traceability & supply chain solution (Infinichains), Packaging (Phabio), Customer & Retail Model (Twirl Store), End Use & Upcycling (Desi Hangover), Social Inclusion (Paiwand Studio) and Technology Innovation (Big Thinx)
Circular Changemakers Enterprise Profile
InfiniChains® is a leading Blockchain based technology company that help brands deeply engage with their users and build lasting trust through transparency. They are building a pilot with Pratibha Syntex for the application of blockchain in supply chain transparency in the apparel & textile industry.
Phabio creates PHA (Polyhydroxyalkanoates) pellets from organic waste and/or by-products. They have created a sustainable loop that create plastics which comes from nature and goes back to nature. Phabio claims to be on-course to become the first PHA producing facility in India and to bring the manufacturing cost of pellets down to the price of traditional polymers.
Twirl.store has a mission to reduce cloth wastage, ensure women empowerment, conserve natural resources and meet the clothing needs of the poor. Twirl.store is perhaps the only Indian platform which offers a distinct buy-back policy for all clothing bought from the store.
Desi Hangover's vision is to be a global sustainable, conscious fashion brand that elevates underserved communities using the forces of capitalism for good. Their mission is to develop rural craft clusters through social innovation, ensuring a secure and sustainable livelihood for artisan communities in India.
Paiwand's mission is to design for circularity and longevity by producing authentic up-cycled fabric and apparel by creating employment opportunities for handloom weavers, artisans and unskilled/semiskilled workers. Within 20 months Paiwand has up-cycled 700 kgs of waste from such designers and is still left with 2000 kgs of waste to add value to. Their mission is to repurpose 40,000 kgs of textile waste by 2023.
Bigthinx is an AI company operating in the $2.5 trillion fashion and retail industry, offering 3D mobile body scanning, clothing size predictions, virtual avatars, digital clothing, and virtual fashion shows, to address problems of clothing fit and look, e-commerce returns, and human body data. These avatars can be used to visualize clothing look and fit, to solve an additional 30% of the reason for clothing returns.
CAIF exists to help answer critical questions that plug key ecosystem gaps in the move towards a circular economy in the future. CAIF is accelerating the transition towards that future by leveraging its lineage as part of Aavishkaar Group in creating impact at scale by providing access to capital, knowledge and networks throughout an innovator's journey.
To know more, write to connect@circularapparel.co.