18,Jan,2018
Intellecap Investment Banking Group helps EPS acquires NCR India's MOF ATM portfolio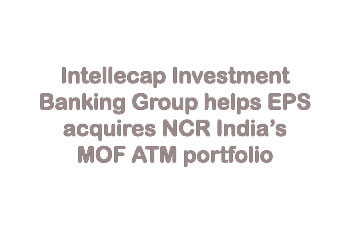 Intellecap's Investment Banking Group exclusively advised Electronic Payment and Services Private Limited ("EPS" or "Company"), a leading player in the ATM Managed Services industry, in acquiring NCR Corporation India Private Limited's (NCR India's) MOF ATM portfolio.
EPS is a leading retail banking technology and Automated Teller Machine (ATM) services provider in India. The Company's services include end-to-end ATM operations Outsourcing & Managed Services, Transaction Processing Services and Card Management Services for banks in India and abroad. In India, EPS has installed ATMs for 26 banks including State Bank of India, Bank of Maharashtra, Canara Bank, Bank of Baroda & Dena Bank across urban, semi-rural and rural locations throughout the country. During 2017, the Company also expanded its footprints into Sydney, Australia with the objective of providing professional services in the payments and banking domain for the APAC region.
In April 2012, Ministry of Finance (MOF) came out with a Request for Proposal (RFP) for installation and maintenance of ATMs on a totally outsourced model for various geographical clusters, following which EPS won the bid to deploy around 5,400 ATMs for the Maharashtra cluster whereas NCR India won the bid to deploy around 4,200 ATMs for the Bihar & Jharkhand cluster and around 2,000 ATMs for the Kerala & Lakshadweep cluster.
Speaking on this acquisition, EPS Founder, Mani Mamallan said, "The acquisition of NCR India's MOF ATM portfolio marks an important milestone in EPS' vision to be the leading provider of technology solutions in the Retail Banking & Payments System globally. The Company has grown from strength to strength since it started operations in 2012 and is now managing a portfolio of 10,000+ ATMs in a span of merely five years. We are bullish on the growth of our ATM business in the coming years through consolidation via inorganic route and greenfield deployments for White Label Service providers. We are also expanding our service offerings by providing digital payment acceptance infrastructure for card present and card not present transactions." Mani Mamallan also said, "We are thankful to our investors – Aavishkaar, Aavishkaar Goodwell, FMO and Apis Partners – for their continued support."
"EPS is one of our esteemed clients and we are proud to have advised them in accomplishing the largest consolidation in ATM Outsourcing & Managed Services space. We believe that the consolidation in the sector it likely to continue owing to strong Governmental push towards financial inclusion, creation of digital payments infrastructure, transformation into less cash economy on one hand, and increasing operating costs on the other which in turn can only be sustained by achieving scale. We also believe that given the prevailing macroeconomic environment, players that offer services across various modes (cash & digital) and form factors (POS, Internet, Mobile, IVR) of payment spectrum, will survive the tide," says Meenal Dutia, who leads the financial services practice for Investment Banking at Intellecap which acted as the exclusive advisor to EPS on this transaction. Earlier, Intellecap had also advised EPS exclusively on its fund raise from Apis Partners and EPS in its acquisition of the complete stake in CISB ATM Services.