28,Mar,2018
Forbes India WPower Issue featuring 25 Influencers features Intellecap CEO Nisha Dutt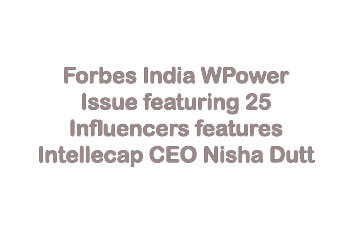 Forbes W Power Trailblazers issue has hit the stands and the magazine has featured Intellecap CEO Nisha Dutt as one of the 25 inspirational women. The India List of WPower issue comes in light of Women's Day on March 8 and the featured stalwarts have been credited as "Torchbearers of Hope".
The W Power Trailblazers issue features 25 role models: Entrepreneurs and professionals who, through their work and leadership can encourage others to be bolder, dream bigger and climb higher. The list was chosen by a jury of seven eminent industry experts and they were given a long list of candidates from diverse businesses to select from.
Nisha Dutt's story titled "Doing Well while Doing Good" talks about how she spearheaded the growth of Intellecap into a globally recognized advisory firm that offers investment banking, consulting and research services focused on the bottom-of-the-pyramid (BoP).
In the profile, Nisha is also credited to be entrepreneurial within the organization, developing solutions to fill "white spaces" in the market which include initiatives at Intellecap spearheaded by Nisha such as Startup Wave, Creditree and Innovation Labs.
The article concludes with a befitting quote from Anil Sinha, an ex-International Finance Corporation and World Bank veteran who has worked closely with Nisha which reads, "Her on-ground knowledge as well as her courage and conviction to build the ecosystem make her a visionary."
To Read Forbes India Editor Brian Carvalho's Edit, Click Here