29,Mar,2023
1st Edition of the Sankalp Dhaka Summit 2023: Award Winners, Media Coverage & Updates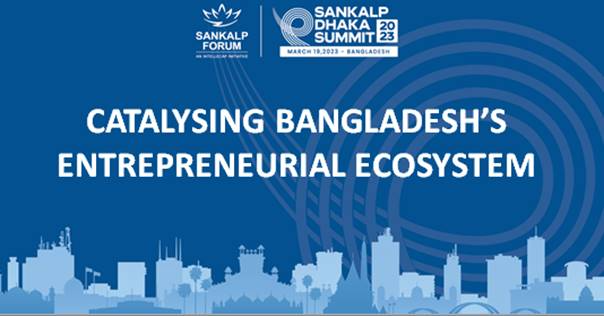 Dhaka, March 22nd, 2023: In a significant milestone, Sankalp Forum, an initiative of Intellecap, and one of the Global South's largest convening on impact entrepreneurship and sustainable development, hosted its 1st Edition of the Sankalp Dhaka Summit, at the Sheraton Dhaka on the 19th March 2023.
Presented by Aavishkaar Group and Intellecap, the Dhaka Summit positively engaged 50+ Global & Regional Speakers and over 180 pioneering change-makers from the development ecosystem and impact community, to discuss, define, and drive forward the critical levers of entrepreneurial success, across 12+ interactive sessions.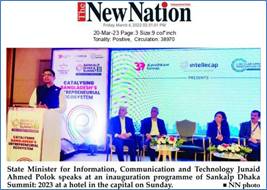 This year's summit, was themed around 'Catalysing Bangladesh's Entrepreneurial Ecosystem" and the Keynote Speaker Zunaid Ahmed Palak, State Minister, ICT Division, Govt of Bangladesh highlighted the govt's commitment to supporting startups and shared his enthusiasm for collaborating further the Aavishkaar Group.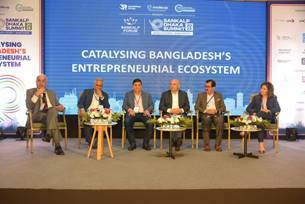 The Opening Plenary with Jayesh Bhatia, MD, Intellecap, Vineet Rai, Founder and Chairman, Aavishkaar Group, Dr. Naresh Tyagi, Chief Sustainability Officer, Aditya Birla Fashion & Retail Ltd., Sami Ahmed, MD, Startup Bangladesh, ATM Tahmiduzzaman, United Commercial Bank PLC. and Ms. Sonia Bashir Kabir, Founder & MD, SBK Tech Ventures, further emphasized about building the entrepreneurial ecosystem.
At the exclusive press meet during the Summit, Vineet Rai, Founder and Chairman, Aavishkaar Group spoke about the limitless opportunity that startups and enterprises in the region can uncover. Sami Ahmed, MD, Startup Bangladesh shared his vision as well.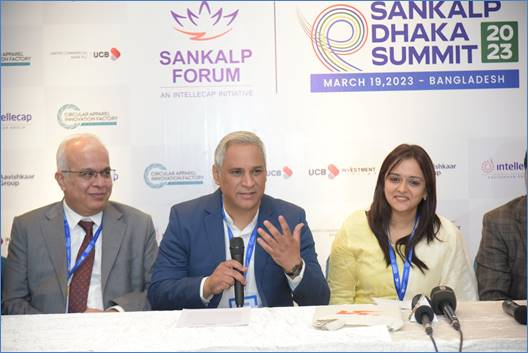 Jayesh Bhatia, Managing Director, Intellecap announced the Bangladesh Green Enterprises Ecosystem Initiative which will raise USD 250 million dollars for 1000 Impact Enterprises by 2030, and will help create 10000 jobs in the country. He also emphasized Intellicap's engagement with the Government initiatives, and offered to bring in experiences from India to bear on the Bangladesh well-articulated Smart Vision 2041 championed by the Honourable Prime Minister.
Jayesh also referred to the work being done by Intellecap on the Renewable Energy (RE). Solar energy presents huge impact and investment potential with solar power potential making up 50% of the RE target for 2041.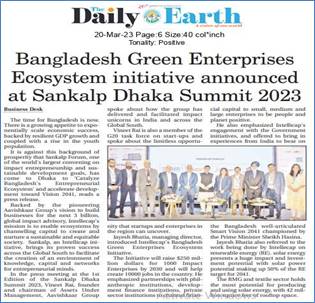 Venkat Kotamaraju, Director, Circular Apparel Innovation Factory (CAIF) spoke about the significant work CAIF is doing in the RMG space and about the 4th CAIF Conclave, where CAIF through its session, featured some of the top names in the sector, highlighted ideas that can help accelerate the green transition of MSMEs in the RMG Sector and deliberated around the imperative need for skilling for a green and circular transition and shared ideas on how to mobilize and build this ecosystem, all with a view to elevate Bangladesh's position in the global value chain.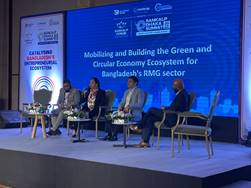 The summit's key partners were United Commercial Bank PLC (Bangladesh), UCB Investments Ltd. (UCBIL), Startup Bangladesh Ltd., Bangladesh Angels Network, International Finance Corporation (IFC), Doen Foundation, UNDP, UNICEF, Aditya Birla Fashion and Retail Ltd. (ABFRL) and Global Alliance for Improved Nutrition (GAIN) , to name a few. The Business Standard was the exclusive media partner to the Summit.
The Summit also witnessed a fireside chat with Vineet and Arif Khan, Vice Chairman, Shanta Bank Asset Mgmt, and compelling sessions on topics such as Promoting Climate Smart and Sustainable Agriculture in Bangladesh, led by International Finance Corporation (IFC), Promoting responsible business approaches for achieving health outcomes by UNICEF, Role of SMEs in Sustainable WASH outcomes by Water.org, Future of Health Care Models by Better Stories and Business Innovations to transform food systems in Bangladesh by Global Alliance for Improved Nutrition (GAIN). In addition, there were learning sessions by way of Master classes and a LIVE deal room where regional and global investors connected with private sector enterprises to facilitate growth capital.
This year the winners of the 1st Sankalp Dhaka Awards 2023 were Wander Woman (2nd Runner-up) PriyoShop (1st Runner-up) and iFarmer (Winner).The other finalists were MommyKidz, Bhumijo, Garbageman and Vertical Innovations.